In a hallway deep beneath FedEx Field, eight men surrounded Robert Griffin III. Some wore earpieces. They rushed the quarterback past white walls and idling Cadillac Escalades and into a black sedan.
"Back up! Back up!" one Washington Redskins staffer bellowed.
Another staffer stood in the middle of the hallway and held out his arms, trying to prevent the bright television lights and snapping cameras from following Griffin and his injured right knee to the makeshift motorcade. In sweat pants hiding a bulky black brace on the knee, he walked slowly but without a noticeable limp.
On the fog-shrouded Sunday, the quarterback screamed and cried and finally cracked jokes as he insisted, with his endorsement-winning smile, everything would be fine. As darkness settled, his motorcade departed for an MRI that revealed no serious damage in the knee, according to a team spokesman, only a sprain. His charmed rookie season will continue.
"Your positive vibes and prayers worked people," Griffin tweeted. "To God be the Glory!"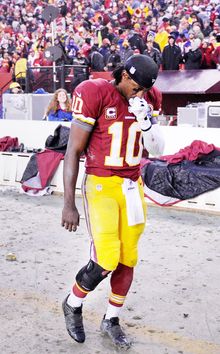 A couple of hours earlier, Griffin predicted the outcome: "I'm not a doctor, but I know what an ACL feels like, and it doesn't feel like an ACL."
An unlikely win didn't seem to matter as much as the health of Griffin's knee.
Despite a style that invites contact, Griffin has avoided injury with the same ease he dodges tacklers. Like the October concussion that left him unable to remember the quarter or score but kept him off the field just three days. Nothing seemed to faze the 22-year-old.
Then came the moment that sucked the life from the stadium. As 1:56 remained in regulation, Griffin scrambled 13 yards in front of the Baltimore Ravens' sideline, no different than this season's 111 previous rushing attempts. When he tumbled to the ground, his right leg whipped in the air. In that instant, Haloti Ngata plowed into Griffin and the bulk of Ngata's 330 pounds crashed into Griffin's knee in midair.
Center Will Montgomery looked up at a video board in time to see his quarterback's leg wobble and bend like a piece of spaghetti.
Griffin remembered thinking, "Oh, lord, here we go."
He screamed.
"Like a man, of course," Griffin added.
The pain was intense, but the worry wasn't. Griffin tore his right anterior cruciate ligament as a sophomore at Baylor in 2009. This didn't feel the same. The Redskins initially announced the injury as a strain, then changed the diagnosis to a sprain.
He exited for one play, told trainer Larry Hess he was going back in, returned to run four more plays and, after throwing the ball out of bounds, dropped to the turf. The knee wasn't right. He couldn't move. He couldn't continue.