LOS ANGELES — Bail for a former elementary school teacher accused of taking bizarre photos of children in his classroom for a sexual thrill was raised Wednesday to $23 million, as parents questioned why they weren't notified when the pictures were found more than a year ago.
Mark Berndt, 61, appeared in court for the first time after being charged with committing lewd acts involving 23 boys and girls, ages 6 to 10, between 2008 and 2010.
The tall and graying Mr. Berndt, represented by public defender Liz Braunstein, seemed calm in court as he spoke only to acknowledge his identity and birthday and agreed to have his arraignment put over to Feb. 21.
He has made no statements to authorities, said sheriff's spokesman Steve Whitmore.
Deputy District Attorney Ana Maria Lopez requested the increase in bail from the initial $2.3 million amount. District attorney's spokeswoman Sandi Gibbons said the initial bail figure was an error because the presumptive bail is $1 million per count.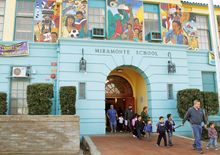 The investigation of Mr. Berndt began when a film processor in Redondo Beach found more than 40 photos more than a year ago, according to the Sheriff's Department, which was given the case by Redondo Beach police in late December 2011.
Sheriff's investigators went to the school and found it was closed for the holidays, Miss Gibbons said.
Los Angeles Unified School District Superintendent John Deasy said he was notified of the investigation in January 2011 and removed Mr. Berndt from the classroom the same day. The school board then fired the teacher, Mr. Deasy said.
Mr. Berndt was placed under surveillance by authorities, then arrested Monday at his home in Torrance. He could face life in prison if convicted.
Investigators have provided few other details about the timing of the investigation.
"If it wasn't for the film processor, this could still be continuing today," said sheriff's Lt. Carlos Marquez.
Some parents picking up their pre-kindergarteners at the school Tuesday complained that officials at the school in South Los Angeles should have notified them when the photos were found.
"My concern is why, if the principal knew this in advance, why didn't he inform us?" said Gloria Polanco, the mother of a second- and a third-grader. "How long has he been doing this?"
The probe began after the film processor, who is required by state law to report suspicions of child abuse and molestation, turned over some 40 photographs to authorities.
About 400 photos were found at Mr. Berndt's home and at the photo lab during subsequent searches. It's not clear how many different children were pictured. At least 10 youngsters in the photos have not yet been identified.