First lady gets Leno to eat his veggies
First lady Michelle Obama cajoled Jay Leno into nibbling on apples, sweet-potato fries and a pizza made with eggplant, green peppers and zucchini on the "Tonight Show" Tuesday, breaking his long-held aversion for all things healthy in his diet.
Mr. Leno once told a magazine he hadn't eaten a vegetable since 1969, and he insisted he had tasted his last apple in 1984. That didn't dissuade the first lady, who's promoting her "Let's Move!" campaign to get children excited about fitness and healthy eating habits.
Earlier, Mrs. Obama poked at him in a Twitter post, hinting she would "get Jay to eat some veggies" on the NBC show.
He did.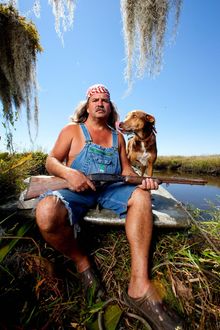 "That does smell very good. I assume this is sausage-pepperoni," the comedian quipped as he eyed the pizza, made with a whole-wheat crust.
The first lady is on a two-day swing through California, where she'll promote her initiative while attending two events to help Democrats raise money for the upcoming elections.
She told Mr. Leno she's not doing anything special to prepare for what's expected to be a tough re-election campaign for her husband, President Obama.
"You know, there's really no way to mentally prepare for it. You take each day as it comes," she said.
Reality TV booming in Louisiana's swamps
Alligator hunters, raccoon wranglers and crawfish catchers in Louisiana's critter-filled swamps and bayous are becoming increasingly common on television.
Since the introduction of the History Channel's wildly popular "Swamp People" in 2010, roughly a dozen other Louisiana-based reality shows have made their television debuts, among them the Travel Channel's "Girls, Guns and Gators," CMT's "Crawfish Cowboys" and the Discovery Channel's "Ragin' Cajuns."
The reason for the recent boom in Louisiana-based reality TV is twofold, said Lt. Gov. Jay Dardenne. Not only do reality shows filmed in the state take advantage of its TV and film tax credit program, but Louisiana has a rich culture that makes for great entertainment.
"There's no question it's a combination of the two," said Mr. Dardenne, who sponsored the original 2002 bill granting tax credits for television and film production in Louisiana.
While some reality shows are far-fetched or have little to do with Louisiana, some are good for the state's image, Mr. Dardenne said. Shows such as "Swamp People" and "Ragin' Cajuns" feature aspects of Louisiana life not found in any other state. They also educate people on issues including coastal erosion and conservation, he said.