DURHAM, N.C. — A feeble two hours of defensive rebounding ensured Maryland lost in its latest trip to Cameron Indoor Stadium. It won't be what is most remembered about Saturday's 73-55 defeat against No. 10 Duke.
Guard Terrell Stoglin scored 13 points – his second-lowest total of the season – and was benched for four minutes late in the second half. That decision apparently prompted Stoglin to take to his Twitter account to vent at nearly the same moment coach Mark Turgeon began his postgame press conference.
"Loved sittin that bench today. [Smh] wow," Stoglin wrote in a tweet deleted within an hour.
A team spokesman said Saturday night that Turgeon was aware of Stoglin's tweet. The spokesman said Stoglin is not suspended.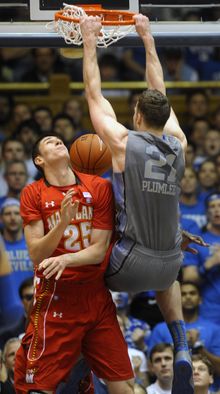 Stoglin apologized on Twitter after Maryland's flight home.
"Never tweet after a loss. not a bad dude just frustrated," Stoglin wrote. "Love terpnation! My fault."
Maryland did not include Stoglin among the three players who conducted interviews outside the locker room. Those who did spoke mostly of the Terrapins' latest rebounding woes and the loss of point guard Pe'Shon Howard to a season-ending knee injury.
However, it was an online outburst from the team's leading scorer certain to remain a prominent point of discussion going forward for Maryland (14-10, 4-6 ACC).
Stoglin shot 4-for-16 in 30 minutes for the Terps, playing plenty at point guard in Howard's absence. But Duke coach Mike Krzyzewski had little interest in permitting the sophomore from authoring a dominant performance.
"They weren't going to let Terrell beat them," Turgeon said. "There's a reason he's won 900-some games. He's not a dummy. They weren't going to let Terrell beat them, and he can't handle it. Then we get frustrated because he throws out of double teams and guys aren't making plays, so he got frustrated."
Stoglin received an expected respite nearly midway through the second half as Maryland trailed 53-42. The Terps then scored seven straight points to create a tight game with the Blue Devils (21-4, 8-2), and Stoglin re-entered as Duke made two foul shots to extend its lead to six.
In the next two minutes, Stoglin committed a turnover and missed a jumper before Turgeon yanked him again.
"His shot selection was not great," Turgeon said. "It was hurting us. We cut it to four without him, so we took him out."
Stoglin sat for more than four minutes, returning with 2:17 to play and Duke in control with a 66-53 edge. The only shot he tried the rest of the way was a wild, errant 3-pointer, which prompted Turgeon to lean back in his chair in exasperation before looking at his staff in bewilderment.