WASHINGTON (AP) — President Obama assured China's heir apparent to leadership that the United States welcomes Beijing's rise in the world, saying Tuesday that strong cooperation between the two powers is good for the rest of the world.
Mr. Obama offered a warm welcome to Chinese Vice President Xi Jinping amid sharp policy differences over Syria, Iran and economic issues, as well as longstanding U.S. concerns over China's human rights practices.
Obama aides said those issues would be on the table during Mr. Xi's unusually long, high-level visit to the United States, but there was no sign of discord during a brief joint appearance between Mr. Obama and Mr. Xi following their first-ever meeting.
"We welcome China's peaceful rise," Mr. Obama said as the two men sat in the Oval Office. "We believe that a strong and prosperous China is one that can help to bring stability and prosperity to the region and to the world."
Mr. Obama said he looks forward to future cooperation.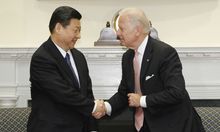 A smiling Mr. Xi told Mr. Obama he wants to build on the past relationship between Mr. Obama and Chinese President Hu Jintao. He said he wants to engage the American people to strengthen cooperation and "deepen the friendship" between the people of the two countries.
Mr. Xi's visit is being closely watched because he likely will lead China over the coming decade, but his remarks after his welcome by Vice President Joseph R. Biden Jr. did not deviate from customary diplomatic rhetoric.
Mr. Xi is slated to become China's Communist Party leader in the fall and president in 2013. His visit offers Washington its first hard look at the man who is destined to lead the world's most populous nation in the coming decade, when the U.S. and China are likely to see their economic ties grow even as they are viewed increasingly as military rivals.
"We are not always going to see eye to eye. We are not always going to see things exactly the same, but we have very important economic and political concerns that warrant that we work together," Mr. Biden said before talks began in the Roosevelt Room.
Mr. Xi is regarded as more personable than Mr. Hu. While Mr. Xi's trip is unlikely to herald any policy changes, it may signal his leadership style.
In brief comments in response to Mr. Biden, a smiling Mr. Xi said it was his "great pleasure" to meet the vice president again, following his visit to China last August, and Mr. Xi thanked Mr. Biden personally for his part in arranging the reciprocal visit.
Mr. Xi said he hoped his trip would build on the progress made by Mr. Obama and Mr. Hu during a state visit by China's president a year ago, in building a "cooperative partnership based on mutual respect and mutual benefit." He said he looked forward to having "an in-depth and candid exchange of views."
His visit will give the Obama administration a chance to press familiar issues with China, including its worsening treatment of dissidents, the unrest in Tibet and the vast U.S.-China trade imbalance.
Much of Mr. Xi's visit will be in the company of Mr. Biden, who went to China as Mr. Xi's guest in August.
Mr. Xi also will meet with Defense Secretary Leon E. Panetta, who will be hoping to inject some vigor into halfhearted ties between their two militaries. Washington will need to persuade a skeptical Beijing that an adjustment in U.S. foreign policy to emphasize the economically booming Asia-Pacific region is not aimed at containing the rise of China — which, in turn, needs to persuade the U.S. and many Asian nations that they need not fear its two-decade military buildup.