HONG KONG — The argument began over the seemingly minor offense of eating on the subway, which is banned in Hong Kong.
A local commuter was outraged that a girl in a tour group from mainland China was spilling noodles onto the floor.
In a video clip that has gone viral, the commuter hits an emergency stop button to alert subway staff.
"I told them they can't eat on the subway," the man tells the subway worker who answers the call. "But then they yelled at me. Hey! This is Hong Kong!"
The commuter demands an apology from the girl's mother. She refuses, and the argument explodes, with both sides screaming at each other.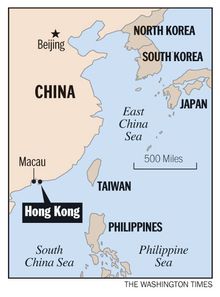 The quarrel, between two groups speaking mutually unintelligible dialects of Chinese, isn't just about manners. It also illustrates how - 15 years after this former British colony was handed back to China - Hong Kongers feel less Chinese and more an island unto themselves than ever as they face a growing influx of visitors from the mainland.
And that's a headache for the communist masters in Beijing, who are concerned about the threat of disloyalty in the semiautonomous territory and are lashing out against the notion of a separate Hong Kong identity.
Other events also have highlighted the split between Hong Kongers and mainland visitors, who are frequently derided as "locusts" for their voracious buying of everything from apartments to luxury goods to baby formula.
A regular poll found the sense of Hong Kong identity surging. A flood of pregnant mainland women crossing into the city solely to give birth has strained tensions.
Even the U.S. consul general has been dragged into the debate after praising Hong Kong for sticking to the "one country, two systems" principle.
A well-known Beijing scholar turned up the heat by calling Hong Kongers "dogs" and "bastards."
Hong Kong, which returned to Chinese control in 1997 after more than 150 years as a British colony, is still a global financial center.
It's also a special administrative region with Western-style rights and freedoms not seen in mainland China, most notably freedom of speech and the rule of law.
Local council members and half the legislature are elected by voters, while a pro-Beijing committee chooses Hong Kong's leader, though direct elections have been promised as early as 2017.
Trying to control Hong Kong