Don Cheadle is a bad man. That's a good sign.
In recent decades, talented black actors have all too often been wasted in predictable roles as often implausibly — sometimes insufferably — noble moral exemplars. It was Hollywood's well-intentioned but patronizing way of trying to expiate its historical guilt for the unconscionable degradation of blacks on screen before the civil rights revolution.
Mr. Cheadle's performance as Marty Kaan on Showtime's new hit "House of Lies" may just mark the beginning of the end of all that.
In the series, last week renewed for a second season, Marty is an angry and selfish man. He's hard-drinking, promiscuous, a terrible father. He is, in short, an antihero — a sleazy, but megasuccessful, high-living corporate management consultant. In the highly fraught, convoluted world of racial identity and mass media, that counts as progress.
The entertainment industry has been creating antiheroes for decades — at least since James Dean rebelled for no reason. When the baby boomers took over Hollywood, first as an audience, then as writers and directors, the antihero became the new norm in cinema from Paul Newman's Cool Hand Luke to Vincent Vega of "Pulp Fiction."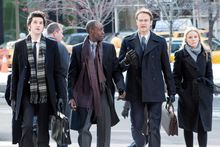 Cable TV, in the wake of Tony Soprano, has been especially welcoming to protagonists who are compelling, if not especially admirable. Larry David gave us the neurotic comic antihero on "Curb Your Enthusiasm." AMC has given us Don Draper of "Mad Men" and Walter White of "Breaking Bad." Showtime, before Marty's arrival, already had a serial killer protagonist in "Dexter" and William H. Macy as an alcoholic welfare cheat on "Shameless." The network also has several memorable female antiheroes, including Edie Falco's title character in "Nurse Jackie," and Mary-Louise Parker's pot-dealing hot mom on "Weeds."
But TV has never had a black antihero before Marty. Not unless you count Will Smith on "Fresh Prince of Bel-Air" — and you really, really shouldn't. Certainly, there's never been a black antihero as the lead character, let alone on a show set, like "Lies," in the still-overwhelmingly white world of corporate America. The popular emergence of Marty Kaan just might mean that American mass entertainment is finally moving beyond a pair of weirdly connected stereotypes about blacks.
For decades, Hollywood notoriously cast blacks — if it deigned to include them at all — in subservient, demeaning or outright villainous roles. After World War II, the pendulum swung the other way, as the rising civil rights movement expressed itself on screen in the birth of a new stereotype — the African-American as a moral paragon — spiritually elevated, or somehow magically gifted person who exists mainly to guide or help white people.
Sidney Poitier created the template in films such as "The Defiant Ones," where he plays a saintly escaped convict, and "Guess Who's Coming To Dinner," where he proves himself irreproachable enough to marry Spencer Tracy's daughter. By the time Morgan Freeman made "Driving Miss Daisy" and "The Shawshank Redemption," the character had become a cliche, one Spike Lee would deride as the "super-duper Magic Negro."
Or, as Joel Mchale's Jeff Winger character famously said on NBC's "Community," anybody raised on TV is "conditioned to believe that every black woman over 50 is a cosmic mentor."
A blend of good intentions, white guilt, bad writing, wishful thinking and dumb, condescending "noble savage" fantasies descended from Rousseau, the caricature of blacks as somehow mystically in tune with nature, or endowed by oppression with special moral gifts and insights into man's fate is, of course, ultimately just as demeaning as blackface or the shuckin' and jivin' of Amos and Andy.
Yet, it's been everywhere. Think of Michael Clarke Duncan laying hands on Tom Hanks' crotch in "The Green Mile," or Will Smith's snicker-worthy portrayal of magic caddy in "The Legend of Bagger Vance." Think of Cuba Gooding Jr. in almost any movie he's ever made. Ditto for Whoopi and Oprah. Denzel Washington has played a career's worth of moral paragons. That is, until he took a bold step forward playing evil in "Training Day." Even Mr. Cheadle did a Magic Negro variation, as an otherworldly guide to Nicolas Cage's rich, lost banker in "Family Man."
Through "Lies," Mr. Cheadle brings the fight that Mr. Washington started to the small screen. Marty is nobody's sidekick. He sure doesn't exist to help the white folk, and his only magic power is being able to break the fourth wall. He's a jerk, all right, but he's not a jerk because he is a black man, any more than his blackness confers a saintliness upon him.
That doesn't mean that "House of Lies" is set in some kind of post-racial paradise. Far from it. Marty faces racism, as in the recent episode when a hotel chain CEO unwittingly, but unmistakably, implied that he doesn't think too highly of black folk. But Marty is not above using race to his advantage, as he did for an unusual sexual encounter in an earlier episode. The point is that he isn't defined by race, or reducible to some convenient symbol for it. Marty neither conforms to the negative stereotypes, nor exists to dispel them. He's just a dude.
"Lies" isn't about breaking racial barriers, though. Thank goodness.