Nevadans feel their issues ignored
Same old rhetoric from candidates
TONOPAH, Nev. — Nevada fought hard to be the first Western state to vote in the Republican presidential primary, offering the chance to break out of East Coast issues and let candidates hone their appeals to the Wild West on everything from water rights to nuclear energy.
But so far, that just hasn't happened.
Instead, the battlefield here looks the same as it did back East: questions of character, attempts to capitalize on one another's gaffes, and the usual assortment of attacks on President Obama's time in office.
"The candidates are ignoring Western issues like land usage," said Richard Disney, a Reno businessman and tea party organizer. "Nevada, where I live, 86 percent of all land in Nevada is owned by the federal government and regulated by the Department of Interior. Water issues are huge, energy issues are huge, and they're ignoring that."
That's odd for a state that prides itself on its independence, and which spawned the Sagebrush Rebellion of the 1970s and 1980s, when ranchers and miners fought back against what they saw as an overbearing government trying to end land-use agreements dating back more than a century.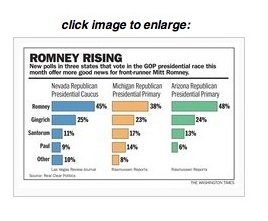 Mr. Disney and others said there are votes to be had for the asking on such issues as the Clean Air, Clean Water and Endangered Species acts, particularly in the state's rural west and north, but nobody's doing much asking.
Instead, the campaigns are running ads focused on broad national issues of leadership and the economy and social issues, and spend their speeches hashing out the same questions as in Florida, which voted earlier this week.
Nevada used to be a middle-of-the-pack state until the last decade, when it decided it wanted a more prominent position in the presidential election process. Democrats pushed it high on their schedule in 2004 and again in 2008, when the Republicans followed suit. In 2008, former Massachusetts Gov. Mitt Romney won the state's caucus-vote easily, but since they happened on the same day as South Carolina's primary, the results were overshadowed.
This time, Nevada had been slated to go fourth, but Florida broke Republican Party rules and moved up its primary, forcing the other states to scramble. Nevada had threatened to hold its caucuses in mid-January, but relented and took the fifth slot behind Florida.
Many Republicans here blame the party for not holding its ground, and say the lack of attention from the candidates is the natural result of the tight schedule.
The caucuses come just four days after Florida's primary and are followed quickly by caucuses in Minnesota and Colorado on Tuesday. Missouri holds a primary on Tuesday and Maine voters caucus from Feb. 4 to Feb. 11.
With all the competition, candidates are splitting their time among the four states. Former Sen. Rick Santorum has only briefly touched down in Nevada this week, while former House Speaker Newt Gingrich and Mr. Romney have put in a little more time.
Besting all of them is Rep. Ron Paul of Texas, who has visited here regularly and has tailored his pitches.
On Wednesday, he laid out an economic agenda that the Las Vegas Sun said at times "seemed to be speaking directly to the problems of the local audience" when he proposed loosening tourist visas and ending taxation of income from tips — both big issues in a state that depends heavily on tourism and hospitality.
Mr. Paul also addressed land-use issues, saying he wants to see the federal government return property to the states.
View Entire Story
© Copyright 2014 The Washington Times, LLC. Click here for reprint permission.