NEW YORK — Birds are chirping, the grass is green, and tea is being served amid blossoming bushes. Welcome to New York City in January, with a cure for cold-weather blues: a pop-up indoor park in lower Manhattan that's open through Valentine's Day.
Despite temperate temperatures so far this year, "it's our rebellion against winter," said Jonathan Daou, founder and CEO of Openhouse Gallery, a company that holds a 20-year lease on the space at 201 Mulberry St.
On a recent chilly weekday afternoon, babies played barefoot in the 75-degree world of Park Here while their mothers and fathers sipped tea and ate cookies and sandwiches.
One night a movie is planned on the lawn; other days bring a ping-pong competition, a trivia contest, wine tastings and soccer workshops.
The 5,000-square-foot artificial habitat in the downtown Nolita (North of Little Italy) neighborhood is filled with trees, rocks, picnic benches and the recorded ambient sounds of Central Park in spring. There are giant cushions and even a hammock, plus a baby elephant.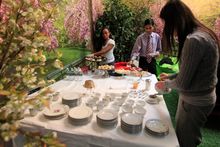 But the park will be gone by mid-February.
The rest of the year, the 200-year-old former police precinct building is a stage for businesses that play on the "pop-up" retail method mushrooming around the world in recent years: a quick presentation of a product, performance or personality, with no commitment to a lease or contract.
It's usually set up in a mobile unit that can be assembled and disappear.
Some call it guerrilla retail.
"You're not stuck with a 10-year lease if the product doesn't sell," Mr. Daou said. "People are looking for novelty, off the beaten path, and this space tests the 'legs' of a business concept."
The space was part of a police precinct in the late 1890s under New York Police Commissioner Theodore Roosevelt, who later became president.
There's nothing historic about what's going on inside now, though. On the contrary, it's all the rage in retail.
In New York last year, the Japanese clothing giant Uniqlo erected four state-of-the-art pop-up shops to highlight the opening of its flagship store on Fifth Avenue and another near Herald Square.
Also last year, in California, chef Jamie Oliver rolled around in his "Food Revolution" truck, a mobile kitchen classroom designed pro bono by David Rockwell to travel to communities and teach children, parents and professionals about healthy cooking and eating.
And in Germany, the prized caterer Kofler & Kompanie opened a pop-up restaurant with a rotating roster of star chefs and moving locations.