Second of two parts
After the Great Recession swept through the global economy and crushed the job prospects and financial security of millions of young people, thousands took to the streets in the past year from Cairo and Moscow to Washington and Wall Street to demand a new economic and political order.
The protests are not just the products of bleak job prospects for younger workers. Many also point to the stark contrast with the wealthy and contented ruling classes, groups that have been largely untouched by the global economic debacle or have received government bailouts without being forced to change the policies and practices that helped create the crisis.
Youth unemployment in most of the world hovers at about 20 percent — more than three times the rate for older adults in most nations, according to the International Labor Organization.
In Tunisia, where the Arab Spring uprisings started a little more than a year ago, 46 percent of people with college degrees lack jobs in their fields. In Egypt, 325,000 university graduates a year enter the job market, where few good opportunities are available.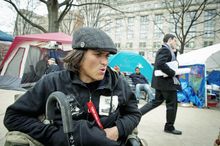 Youth unemployment ranges as high as 49 percent in Nigeria and 40 percent in Spain and Greece, where protests have turned violent in reaction to government austerity programs. In the U.S., the official unemployment rate among 16- to 24-year-olds is 19 percent, but the real rate — including workforce dropouts — is closer to 25 percent.
"With such numbers of young people feeling left out of their own future, youth protest is on the rise" and is gathering steam in the U.S. after starting overseas in the Middle East and Europe, said Costas Panayotakis, a sociology professor at the City University of New York.
He visited Greece last summer to observe the increasingly confrontational demonstrations there against the austerity program imposed by the European Union and International Monetary Fund as a condition of receiving loans and debt relief.
Mr. Panayotakis sees economic pressures as the main driving force behind the worldwide demonstrations, and the lack of democracy in many nations has only "added to the pain."
The austerity burden
The youth-based protests have intensified as governments have joined with business interests in slashing worker pay and benefits in places such as Athens, Wisconsin and Washington, D.C.
Recession-wary businesses have been loath to create full-time positions that provide health care and retirement benefits, so younger workers are accepting part-time jobs and contract employment with no benefits or job security. Many are offered low-paid or unpaid internships or "traineeships" instead of jobs.
Many of the jobless and underemployed youths around the world are highly educated. Even in fast-growing countries such as China, which managed to avoid a deep downturn as a result of the 2008 financial crisis, the number of college graduates is growing more rapidly than the labor market can absorb. An estimated 5 million young Chinese graduates reportedly can't find jobs.
"Youth protests are not likely to subside anytime soon," because the political and economic systems are not providing the jobs they need and, in many cases, are making employment prospects worse rather than better, Mr. Panayotakis said.
Governments, seeking to shed mountains of unsustainable debt, have been adding to the burden on youths by making higher education — a requirement but not a guarantee for middle-class jobs — more expensive and harder to obtain. In Britain and other European countries, university degrees that were once free now come with fees.