In the annals of unexpected endorsements, it tops Fake Gorbachev slow-clapping for Sylvester Stallone at the end of "Rocky IV": Last week, heavy metal guitarist Dave Mustaine — Megadeth front man, longtime earthly vessel of sonically demonic sturm und drang — sized up the Republican presidential field and expressed his greatest admiration for … Rick Santorum.
The guy in the sweater vest.
The old-fashioned social conservative.
The total, irredeemable, square.
Why would a lifelong rocker back the least headbanging candidate since Bob Dole? Try this: In an online interview, Mr. Mustaine said that he liked the fact that Mr. Santorum took time off from campaigning to care for his ill daughter, and that he hasn't engaged in the same level of down 'n' dirty attack advertising as rivals Newt Gingrich and Mitt Romney.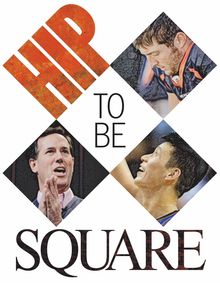 In short, the rocker seemed to appreciate Mr. Santorum's essential squareness — much like the Republican primary voters who have helped the decidedly dorky former Pennsylvania senator rise from campaign trail road kill to a polling dead heat with Mr. Romney.
And the Square Surge doesn't stop there.
After all, the hottest athlete in sports — and the hottest story outside of sports — is New York Knicks guard Jeremy Lin. Savior of Gotham. The biggest deal in big deals since, well, Denver Broncos quarterback Tim Tebow, the most popular player in the nation's most popular league.
Unsurprisingly, Mr. Lin and Mr. Tebow already have been compared. Both are devout Christians. Both have a knack for late-game heroics. Both have inspired silly Web photo memes. Both have piqued the reported interest of relentless fame grifter Kim Kardashian.
Only none of that is what truly makes the two similar.
No, what makes them similar is this: Both are classic squares. Devoutly unhip. Same as Mr. Santorum. Three men seemingly out of pop culture time, they come to us clean-cut and edge-free, dripping with sincerity, owing more to Christopher Reeve's straight-arrow Man of Steel than to Christian Bale's brooding Dark Knight. Fashionable as George Will and as ironic as Ward Cleaver, they're the kind of characters former New York Yankees manager Billy Martin derided as "milkshake drinkers."
And yet: Right here, right now, America doesn't care. We're all in on Lin, still gripped by Tebowmania, giving Mr. Santorum — you know, the Jerry Seinfeld-looking dude standing waaay off to the side during the early GOP debates — a second look.
Suddenly, we're cool with uncool, drinking the malted vanilla Kool-Aid. And that, in turn, begs a question, the one once posed by noted late-20th century philosopher Huey Lewis.
Is it hip to be square?
Tragically unhip