PaleyFest TV celebration available to stream live
The annual PaleyFest TV celebration in Southern California is going live online.
When the stars and creators of "American Horror Story," "Modern Family" and other TV series gather from Friday through March 14 at a Beverly Hills theater, their discussions will be streamed live for the first time, the Paley Center for Media said Friday. All 13 of the PaleyFest panels will be carried by Livestream, the live-event service that's a partner in this year's festival.
The majority of panels will be available on-demand through another festival partner, Hulu. The sessions will be available through the free, ad-supported Hulu and Hulu Plus subscription services starting March 15, after the festival concludes.
"At its heart, PaleyFest is about the communal experience of television, and the unique relationship between TV audiences and their favorite series," said Paley Center President and CEO Pat Mitchell. The live broadcasts, on-demand access and a new website allow more fans to join in, she said.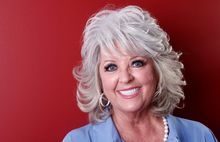 The center also is touting a new app and an online auction set to include memorabilia from series featured in this year's and past festivals.
PaleyFest 2012 opens Friday at the Saban Theater with the "American Horror Story" panel and concludes with "Modern Family." Other shows in the lineup include "Community," "Once Upon a Time," "New Girl," "The Office," "Sons of Anarchy," "Bones," "Castle," "Vampire Diaries," "Revenge," "Two and a Half Men" and "Mad Men."
The "Community" and "Castle" panels will be shown live at the Paley Center in New York.
Deen ready to show lighter side of cooking
A month after being widely criticized for revealing she has diabetes — as well as a lucrative endorsement deal for a drug to treat it — Paula Deen said she's ready to show a lighter side to her famously fatty Southern-style cooking.
Just don't expect her to swear off butter.
"I am who I am. But what I will be doing is offering up lighter versions of my recipes," the longtime Food Network star told the Associated Press during an interview at the South Beach Wine and Food Festival on Friday.
"I will have a broader platform now, trying to do something for everybody," she said. "But you know, I'm Southern by roots. I was taught [to cook] by my grandmother and nothing I can do would change that."
Last month, Ms. Deen drew the ire of many in the health and culinary worlds when she announced she was diagnosed with Type 2 diabetes nearly three years ago. Roughly 23 million Americans are believed to have Type 2 diabetes, a condition blamed in part on obesity and unhealthy lifestyles.
During those years, she continued to promote her butter- and bacon-laden cooking on television and in books and magazines, and to profit from lucrative endorsement deals with companies such as Smithfield ham and Philadelphia Cream Cheese.