The U.S. economy sent some mixed signals on growth Tuesday, with bad news on housing prices and durable goods orders, but consumer confidence jumping to its highest level in years and the Dow Jones index closing above 13,000 for the first time since May 2008.
The new numbers offer a cloudy forecast for the U.S. economy as the presidential election heats up, with President Obama and his Republican rivals watching to see if recent signs of an economic rebound will be sustained.
The Standard and Poor/Case-Shiller index of home prices in selected U.S. markets finished 2011 at a new low, the company said Tuesday. The study surveys average home prices in the top 10 and 20 U.S. cities.
Prices fell in 19 of the 20 cities in December compared to the same month in 2010. Only Detroit posted a year-over-year increase. Nationwide, prices have fallen 34 percent nationwide since the housing bust, and are now back to 2002 levels. A gauge of quarterly national prices, which covers 70 percent of U.S. homes, fell to its lowest point on record dating back to 1987 after being adjusted for inflation.
Matthew Montagu-Pollock, publisher for Global Property Guide in the United Kingdom, called the housing value decline "a big thing" as the economy struggles to regain altitude.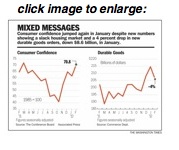 "I think what happens in the housing market is absolutely primary," he said. "...If that's not coming through, then there's a problem."
John Shea, associate professor of economics at the University of Maryland, said that the housing market may still not have hit bottom.
"I hesitate to say that the worst of the housing market is behind us," Mr. Shea said. "I think that we're still a ways away from housing being a real strength in the economy"
David Blitzer, chairman of the index committee at S&P Indices, said that he was "disappointed" with the decline. "After a prior three years of accelerated decline, the past two years has been a story of a housing market that is bottoming out but has not yet stabilized," he said in a statement.
The government's durable goods report for January offered more bad news Tuesday.
Business expenditures on durable goods - products that are expected to last at least three years - also showed a significant drop, in part, analysts said, because of an expiring tax break last month that allowed companies to purchase the goods and write them off as tax credit.
As a result, December 2011 yielded record highs in sales as companies rushed to meet the January expiration date. According to the Commerce Department, orders for durable goods sank 4 percent after the tax break period ended.
The U.S. Census Bureau reported that new orders for manufactured durable goods in January decreased $8.6 billion, or 4.0 percent, to $206.1 billion in January.
Yet not everyone sees the decline of durable goods purchases and prices in the housing market as a negative thing.
"If the decline in home prices is slowing down, that too is a good and positive sign," said Ken Goldstein, an economist for the Conference Board, noting that the 4 percent housing price downturn is still better than the previous year.
Despite the negative news, the Conference Board's widely watched index of consumer sentiment rose 9.3 percent in February to its highest level in a year.
The index now stands at 70.8, significantly higher than the expected 63. A reading of 90 or above indicates a healthy economy. But the index has not reached that level since December 2007, when the recession began.
Still, Tuesday's numbers were closer to levels that indicate a stable economy than to the danger zone that would suggest trouble.
"I think that the economy as a whole is pointed in the right direction, it is recovering," said Mr. Shea.
© Copyright 2015 The Washington Times, LLC. Click here for reprint permission.