Journalist smuggled out of Syria
Wounded British photographer whisked to safety in Lebanon
BEIRUT — Syrian rebels smuggled a wounded British journalist out of the besieged central city of Homs on Tuesday and whisked him to safety in neighboring Lebanon, activist groups said.
Thirteen Syrians who were trying to help rescue Paul Conroy and other trapped Western reporters were killed in the operation, one of the groups said.
They did not manage to evacuate a wounded French journalist, two other Western journalists or the bodies of an American reporter and a French photographer killed last week.
The Syrian opposition group Local Coordination Committees and the global activist group Avaaz said Mr. Conroy was the only foreign journalist to escape Syria. Rima Fleihan, a spokeswoman for the Local Coordination Committees, said the Sunday Times photographer was smuggled out by Syrian army defectors.
The activist group Avaaz, which said it organized the evacuation with local Syrian activists, said 35 Syrians volunteered to help get the journalists out and bring aid in. Of those, 13 were killed.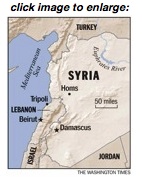 Avaaz said three were killed in government shelling while trying to help Mr. Conroy through the neighborhood and 10 others were killed trying to bring in aid while Mr. Conroy was on his way out Sunday evening.
It said the remaining foreign journalists who had been stuck in the area with Mr. Conroy "remain unaccounted for."
The Local Coordination Committees said other Western journalists are negotiating with the Syrian Arab Red Crescent to be allowed to leave Syria without having their videos and photos confiscated by authorities.
All the journalists killed and wounded in Homs were smuggled into Syria from Lebanon illegally.
"I have heard that he is out," said Mr. Conroy's wife, Kate. "All I can say is that we are delighted and overjoyed at the news, but I am not going to say any more than that at this point."
Mr. Conroy's father, Les Conroy, said: "We're all very relieved and happy that Paul's out."
The regime kept up its fierce bombardment of the central region, a major stronghold of the opposition waging an 11-month-old uprising to oust authoritarian President Bashar Assad.
Activists reported overnight the deaths of 144 more people in unrest across the country — scores of them in the rebel-controlled Homs neighborhood of Baba Amr by security forces as they tried to flee — and said at least nine more were killed by shelling Tuesday.
After a weekend meeting during which Western and Arab nations tried to forge a unified strategy to help push Mr. Assad from power, the U.N.'s human rights chief said Tuesday the situation in Syria has deteriorated rapidly in recent weeks and demanded an immediate humanitarian cease-fire.
Navi Pillay said her office has received reports that Syrian military and security forces "have launched massive campaigns of arrest" and launched an onslaught against government opponents that has deprived many civilians of food, water and medical supplies.
View Entire Story
Copyright 2013 The Associated Press. All rights reserved. This material may not be published, broadcast, rewritten or redistributed.
Independent voices from the The Washington Times Communities
NFL junkie Eric Golub reports on his favorite obsession. There is no football offseason. Every February he pretends to care about other sports while sobbing uncontrollably each Sunday until September.
All of the world's problems, solved on your back porch
Brazen, leading-edge, "call it like it is" columns and reporting from Ohio native, radio host and writer, Sara Marie Brenner.
Entertainment News and Reviews from Washington, D.C. and beyond.