Crossing into Ward 5, it doesn't take long to spot the spectrum of colorful campaign signs that courses through a residential strip just south of Riggs Road, a key dividing line from Ward 4 in Northeast.
Blue-on-white signs for Ward 5 contender Frank Wilds are popping up near the former Backus Middle School, joined by bright red signs touting Drew Hubbard and neatly designed deep-blue placards for Ron Magnus. The campaigns of Kenyan McDuffie and Delano Hunter are competing for motorists' attention along South Dakota Avenue.
The candidates are among 16 competing to replace former D.C. Council member Harry Thomas Jr., who pleaded guilty in January to stealing more than $350,000 from the District and left Ward 5 without direct representation in city hall.
Whittling down a slate that large — both for debates and serious consideration in the special election on May 15 — could prove to be difficult, although the vetting appears to be under way.
Invitations to a key debate this Saturday at Catholic University gave preference to five candidates who showed the strongest signs of "electability" — Mr. McDuffie, Mr. Hunter, Kathy Henderson, Frank Wilds and Tim Day, a Republican who first sounded the alarm on the 2010 campaign trail about Thomas' suspicious use of the Children & Youth Investment Trust Corporation to direct funds to organizations of his choosing.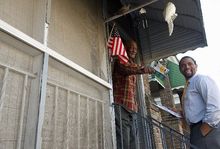 Organizers wanted to hold a traditional debate, so "we couldn't invite 15 or 20 candidates," said Don Padou, a board member at the Brookland Heartbeat publication that is hosting the event with WTOP and the League of Women Voters.
The five-member debate could be an indication that some candidates have a head-start in the race, while others are left tapping on the glass around an insular field.
"They did not announce in the beginning they were having a debate of only a few people," Democratic candidate Rae Zapata, 61, a Brookland resident who ran against Thomas in 2006 but was not invited to the debate, said Tuesday. "In any political race, your exposure is critical."
Mr. Hunter said he understands the desire to keep the debate small, but suggested there could have been separate panels of five candidates each.
"Certainly there are arguments on both sides of the issue," said Mr. McDuffie, a 36-year-old resident of the Stronghold neighborhood who resigned his job as a policy adviser in the office of the deputy mayor for public safety to run.
Twenty-five people showed an interest in the vacant seat in the weeks following Thomas' departure, although some withdrew or failed to file ballot petitions. John Salatti is among the remaining candidates listed by the D.C. Board of Elections and Ethics but has decided to withdraw, according to a report in the Washington City Paper.
Of the remaining candidates, almost half can rely on name recognition from bids against Thomas in the past two elections, although candidates interviewed by The Washington Times agreed that organization will also be a determining factor in who wins the seat.
Among Saturday's chosen debaters, Mr. Wilds and Ms. Henderson ran against Thomas in the 2006 Democratic primary, with Ms. Henderson renewing her efforts in the 2010 general election as an independent candidate. Mr. McDuffie and Mr. Hunter ran against Thomas in the 2010 Democratic primary.
Asked whether the race could come down to him and Mr. Hunter, Mr. McDuffie said, "I think that's accurate."
Mr. Hunter agreed.