Kristin Chenoweth is taking the long way home.
The Tony Award-winning singer and actress announced Wednesday that she'll kick off her first-ever concert tour on May 9 in Seattle and it will end June 24 in Broken Arrow, Okla., the town where she grew up.
"I've sung all over the place but I've never committed to a tour because of my schedule," said the petite beauty with the powerful pipes. "So now I'm finally doing it."
Miss Chenoweth's 19-city North America tour will include stops in the District and Baltimore. In her hometown, the main 1,500-seat stage at the Broken Arrow Performing Arts Center will be renamed in her honor, according to the Associated Press.
"For me, it will be very emotional," she said.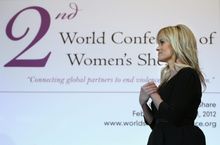 Mark Frie, the arts center's executive director, said Broken Arrow has been looking for a way to honor Miss Chenoweth since the facility opened its doors three years ago. "We're excited to welcome her home," he said.
On tour, Miss Chenoweth said she'll perform songs from her latest country-inspired album "Some Lessons Learned," as well tunes from the TV show "Glee" and ones from her Broadway shows, such as "Popular" from "Wicked."
"If I don't do 'Popular,' I will go out on a stretcher. I know that," she said, laughing. "I've accepted it, and you know what? I'm thankful for it. I'm glad that I have songs that I'm known for."
Miss Chenoweth, 43, won a Tony Award in 1999 for her performance in "You're A Good Man, Charlie Brown" and an Emmy Award for the TV show "Pushing Daisies." She was nominated in 2004 for originating the role of Glinda in "Wicked" and was last on Broadway in 2010 in "Promises, Promises."
Tickets go on sale March 9.
Witherspoon addresses domestic violence
Actress Reese Witherspoon has had the talk with her two young children. Not the sex talk. The domestic violence talk.
As a global ambassador for Avon's efforts to help victims of domestic violence, Miss Witherspoon traveled to the Washington area to speak to the 2nd World Conference of Women's Shelters, prompting a talk with Ava, 12, and Deacon, 8. Though she said her kids were shocked to hear how one in three women is abused in this country, Miss Witherspoon said it was important for them to be aware of the problem, especially her daughter who's almost old enough date.
At a time when bullies are responding with violence, Miss Witherspoon also said parents must educate themselves and their children about social media and "what constitutes harassment, what is acceptable and what is not."
Domestic violence is a topic in many songs, including Miranda Lambert's "Gunpowder and Lead," where she sings about shooting an abusive husband. Miss Witherspoon said such songs "create retaliation fantasies," which are "a very important part of our psychology," but she doesn't think they replace the effectiveness of going public about domestic violence.