SAN DIEGO (AP) — Eight sailors have been discharged from the Navy after a hazing incident aboard a San Diego-based amphibious assault ship that was captured on video and included the choking of a fellow sailor, a Navy spokesman said Saturday.
The eight received general discharges following allegations they assaulted and choked the sailor aboard the ship, the Bonhomme Richard, as part of a rite to initiate the sailor into a new department, said Lt. Cmdr. David McKinney.
Cmdr. McKinney said the assault, which took place Jan. 17 in the ship's berthing area, was videotaped and the victim treated for injuries.
"He was choked out, evidently blacked out and had bruising," Cmdr. McKinney said.
The injuries were not serious, but the sailor sought treatment and reported the incident to his superiors, leading to the discharges, Cmdr. McKinney said.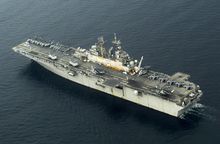 The sailors, all from the junior ranks, made statements to investigators that amounted to confessions, Cmdr. McKinney said. They called the incident just roughhousing, but the Navy considered it hazing, he said.
"When an incident like this happens, it's got to be taken care of," Cmdr. McKinney said. "It goes contrary to our core values."
One of the sailors seen in the video, Charlie Davis, 20, of Dallas, told ABC10 News that the attack was just "play wrestling" and "boys being boys," and he and others had been through the same thing earlier in the day.
"A couple of the guys wrestled me down and had fun with me and then shook my hand and welcomed me aboard," he said.
Mr. Davis, who had in the Navy for just five months, told the TV station he's disappointed in himself but believes the Navy's zero-tolerance hazing policy is too harsh.
"I buy into it for drugs and alcohol — that's zero-tolerance," Mr. Davis. "But play wrestling with no malicious intent and for eight people's lives to be destroyed? You've got to be kidding me."
The sailors could have appealed their captain's discharge decision, but none has done so, Cmdr. McKinney said.
The Navy did not release the names of the discharged sailors or the victim.
The action follows recent congressional hearings on hazing in the military, including the case of Marine Lance Cpl. Harry Lew, who shot himself in a foxhole in Afghanistan last year after he was beaten, forced to do repeated pushups and fed mouthfuls of sand.