U.S. marriage rate continues decline; men tie knot later
Scholar cites effects on civic culture
The third annual National Marriage Week USA begins Tuesday amid a tumultuous state of the union.
Connubial joy is punctured by news that marital happiness plummets after a few years and having a baby puts romance on hold, sometimes for years.
U.S. marriage rates are low and dropping, while the average age of first marriage for American men has risen to almost 29 years.
A new study asserts that marriages and cohabiting relationships aren't all that different in the long run. Instead, after a few years, married couples look like unmarried couples on measures of well-being, health and social ties, researchers Larry Bumpass of University of Wisconsin at Madison and Kelly Musick of Cornell University write in the February 2012 issue of the Journal of Marriage and Family.
And a new book by American Enterprise Institute scholar Charles Murray warns that the loss of marriage and other "founding virtues" — especially in the white lower class — may spell the end of the America's unique civic culture.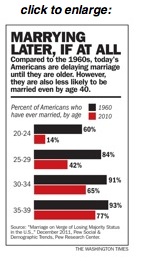 Marriage is already "the fault line" between America's rich and poor, writes Mr. Murray. Unless trends against marriage, industriousness, honesty and religiosity are reversed, "many of the best and most exceptional qualities of American culture cannot survive," Mr. Murray says in "Coming Apart: The State of White America, 1960-2010."
In a recent interview, Chuck Stetson, chairman of the Let's Strengthen Marriage campaign, and colleague Sheila Weber, executive director of National Marriage Week USA, say they are aware of these developments, but are undaunted.
"On the one hand, I recognize the numbers of where we are. But I'm not discouraged, because I think the American people, once they focus on this thing, can turn this thing around," says Mr. Stetson, a venture capitalist who also promotes Bible literacy in schools.
"Rebuilding our economy is tied to rebuilding marriages," says Mrs. Weber, whose group lists on its website hundreds of pro-marriage events happening this week.
Taxpayers already spend at least $112 billion a year to support households that have experienced divorce and unwed parenting, she says, citing a study from the Institute for American Values. And new research from the National Marriage Project at the University of Virginia shows that the wealth of a nation is tied to a culture that values men and women marrying each other and having children.
The economics of marriage and family are so profound that "unless we get marriage right, we are never going to balance any of our budgets," Mr. Stetson says.
U.S. marriage rates, however, already at a record low.
The number of American adults who are married has fallen from 72 percent in 1960 to barely 51 percent, and the number of new marriages fell 5 percent between 2009 and 2010, the Pew Research Center said in December.
If these declines continued in 2011, "less than half of American adults are in a legal marriage now," Stephanie Coontz, Evergreen State College professor and director of research at the Council on Contemporary Families, said recently in an opinion piece in the Los Angeles Times.
"This does not mean marriage is an endangered institution," wrote Mrs. Coontz, author of the 2005 book, "Marriage, A History."
View Entire Story
© Copyright 2014 The Washington Times, LLC. Click here for reprint permission.
About the Author
Cheryl Wetzstein covers family and social issues as a national reporter for The Washington Times. She has been a reporter for three decades, working in New York City and Washington, D.C. Since joining The Washington Times in 1985, she has been a features writer, environmental and consumer affairs reporter, and assistant business editor.
Beginning in 1994, Mrs. Wetzstein worked exclusively ...
Latest Stories
Latest Blog Entries