If you've ever wondered whether America's near-tribal political polarization extends to romance — whether an Ann Coulter-Keith Olbermann wedding would, in fact, be weirder than a Herman Cain campaign advertisement — social science at long last has provided a tentative answer.
Yes. And duh!
Conservative Republicans are more likely to be uncomfortable with public displays of affection. Liberal Democrats are less likely to disapprove of one-night stands. When it comes to amorous relationships — from dating etiquette to what people desire in mates — singles at opposite ends of the political spectrum are as different in the bedroom as they are at the ballot box.
Also, conservative Republicans are more likely to experience orgasms. But more on that shortly.
Such are the results of "Singles in America," a wide-ranging new survey of more than 5,000 single adults designed by the University of Binghamton's Institute for Evolutionary Studies and conducted in conjunction with the dating website Match.com.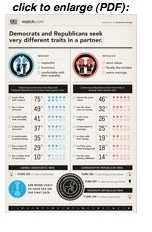 "Liberals and conservatives are looking for entirely different things," said Helen Fisher, a biological anthropologist at Rutgers University who specializes in love and sexuality and consulted on the survey. "Their attitudes toward romance and how they court are really dramatically different. There's almost no overlap.
"Like everyone else, I've always sort of assumed that the values in the voting booth would bleed into social and personal life. But now I have the data to prove it."
In the survey, singles of various ethnic, geographic and socioeconomic backgrounds were asked 135 questions about their romantic lives and attitudes. They also were asked to self-identify as conservative Republican, liberal Democrat, a moderate of either party, independent or Libertarian.
According to Ms. Fisher, the greatest differences were found between the first two groups — particularly when asked about the qualities they "must have" in a romantic partner.
Conservative Republicans were more likely to say they must have someone of the same political, religious and ethnic background who shares the same values and attitudes about money and wants to marry.
By contrast, liberal Democrats were more likely to say they must have a partner with a sense of humor and independence who can articulate his or her needs, respects them, is physically attractive and comfortable with his or her sexuality, and has the same educational level.
Why the sharp differences? Ms. Fisher, author of "Why We Love: The Nature and Chemistry of Romantic Love," said the answer might lie as much in brain chemistry as in professed political and cultural values.
For example, while a majority of men and 90 percent of women checked the "must have" survey box for "sense of humor" — a quality that itself is both a longtime online dating and Playboy centerfold questionnaire cliche — conservative Republicans were the least likely to select it.
According to Ms. Fisher, adult humor generally plays on the unexpected, something conservative Republicans may dislike because of biology.
"There is more and more data indicating that there is a biological basis to your political views," Ms. Fisher said. "I've found in other studies that Republicans are more likely than other political types to be expressive of traits linked with the serotonin system."