The most outlandish political advertisement in recent memory goes something like this: The U.S.S. Constitution floats down a river, heading toward a waterfall's edge. President Obama grips the ship's steering wheel as passengers toast bank bailouts and "free health care for life." Below decks, cute-but-despondent child slaves pull oars. A man in a Guy Fawkes mask cradles a pot of cash. A woman in a bathtub mentions a "stimulated" solar company.
Also, the disembodied head of former Rep. Alan Grayson, Florida Democrat, appears superimposed on the body of a parrot.
Officially a pitch for Mark Oxner, a Republican congressional candidate in Florida's new 27th District, the online spot ostensibly serves as a 39-second visual metaphor for the shortcomings of the Obama administration and the dangers of the national debt. Mixing computer graphics and live actors, it resembles either a big-budget video game or a shoestring Hollywood film — starring a chimerical parrot.
Amusing, offensive and just plain odd, the ad is less "Morning in America" than Monty Python, the sort of thing a viewer feels compelled to watch more than once, and then pass along to friends.
Which, by the way, is the intended effect.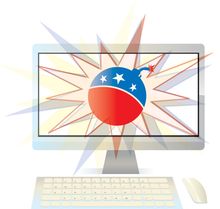 "If it doesn't go viral, nobody is going to see the message," said Ladd Ehlinger, the 42-year-old Alabama-based filmmaker who produced the spot.
"The wedding videographer who occasionally does a campaign ad making a candidate look like Knute Rockne doesn't quite work online," he said. "I can't tell you how many ads made with the television mentality are just sitting out there on the Internet with 60 views.
"The candidate loves his children and believes in America. Oh, great. The 60 people who watched it are his friends and family and staff. Nobody wants to be bored."
Once upon a time, political ads were simple, falling into two cliched categories: warm 'n' fuzzy soft-focus personal appeals and scathing critiques of rival candidates, rife with unflattering photographs and exploding hydrogen bombs. No longer. As the American electorate increasingly moves online, campaigns are following suit, producing eccentric, controversy-courting video pitches that hew to a single, golden rule:
Bore not, lest ye go unclicked.
A commercial from Michigan Republican Senate candidate Pete Hoekstra's campaign that features an Asian woman riding a bike through a rice paddy and thanking Democratic incumbent Debbie Stabenow in broken English for helping China with her "reckless spending" has nearly 1 million YouTube views and aired statewide during the Super Bowl, drawing bipartisan national criticism for being racially insensitive.
Carly Fiorina's ill-fated 2010 California Senate campaign is best remembered for an online ad that depicted Republican primary opponent Tom Campbell as a fiscal-conservative-in-name-only "Demon Sheep," complete with a human actor in a sheep costume scurrying around on all fours, eyes glowing red.
The most talked about — and most widely mocked — spot of the current Republican presidential primary was Herman Cain's "Smoking Man," in which footage of campaign aide Mark Block touting his candidate's virtues and taking a deep drag from a cigarette gives way to an uncomfortably long shot of Mr. Cain grinning impishly.
"These ads are attempts to cut through the clutter," said Tim Groeling, chairman of the Communication Studies Department at the University of California at Los Angeles and an expert on political ads."If you're Mitt Romney, you don't need to be doing that right now. You have standard, safe, controlled ways to get messages out.
"But other campaigns, especially ones that don't have a huge mountain of resources, are using this as a cheap way to get their names out and build recognition."