You've heard that laughter is the best medicine, but it could also make good diplomacy.
That's what U.S. diplomats in India are hoping for with a State Department-sponsored comedy tour that stops in seven cities in India this month.
The "Make Chai, Not War" stand-up tour features three U.S.-born comics of South Asian ancestry on a mission to break down religious barriers between Indians and promote U.S.-India cultural ties.
"I was born in Ohio, so going over to India is pretty different," Rajiv Satyal said as he boarded a flight to India from his hometown of Cincinnati last week.
The 35-year-old Hindu comedian created the routine, named after the Indian spiced tea drink, chai, for U.S. audiences in 2007 with Azhar Usman, a Muslim comic from Chicago. Past iterations also featured Jewish and Christian comics, and the tour caught the eye of State Department officials in 2008 during a sold-out performance in Arlington.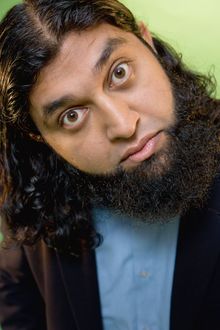 Shows in India will feature Mr. Satyal, Mr. Usman and Hari Kondabolu, a Hindu comic from Queens, N.Y.
The U.S. government is spending about $88,000 on the tour and question-and-answer workshops with the comics, hoping to spread good will between India's Hindus and Muslims.
Relations between the two have long been strained by violence, and tensions run high between majority-Muslim Pakistan and majority-Hindu India, which has accused its northwestern neighbor of backing militants who killed 166 people in the 2008 Mumbai attacks.
Mr. Satyal and Mr. Usman noted that most Muslims and Hindus have lived together in harmony for centuries - which both men aim to use in the tour, if only to show how people of different faiths can laugh at the same jokes.
"The key is to tap into issues that everyone can relate to and find what's funny," said Mr. Usman, known for his work on "Allah Made Me Funny: the Official Muslim Comedy Tour."
"I am a believing, practicing Muslim," he said. "This, to me, means that I won't do sacrilegious, blasphemous or heretical material. I will, however, make fun of human stupidity, narrow-mindedness and religious fundamentalism."
The goal of the tour is to provide a window for Indians into American multiculturalism, said David Mees, cultural attache at the U.S. Embassy in New Delhi.
Some U.S.-funded cultural events play to elite and older audiences, but this one is different, he said.
"Humor should help us make inroads in a part of India that hasn't yet made up its mind about the United States - the young people, who, through exposure like this, are still open to persuasion," he said.
No stand-up routine is without risk. Since "Make Chai, Not War" is mainly in English, it is possible the American jokes might not resonate.