ANCHORAGE, Alaska (AP) — An Alaska community digging itself out of nearly 15 feet of snow first tried Anchorage, Fairbanks and other cities when it ran short of shovels after being pummeled this week by yet another storm.
It finally turned to a manufacturer Tuesday for a special order.
"It's ironic, isn't it? The state of Alaska — you'd think they'd be ahead of the game. It's those logistical things you just don't plan on or you don't think is going to be an issue," said Allen Marquette, a spokesman for the city of Cordova, on the east side of Prince William Sound.
The snow-weary community of 2,200 was promised new shovels to be manufactured Thursday and delivered two days later — but it will be too late for the "couple more feet" of snow that touched down Tuesday, accompanied by winds of 25 to 40 mph and gusts to 55 mph.
The latest storm hit much of south-central Alaska. Avalanches along the Seward Highway closed the only route south out of Alaska's largest city, cutting off Anchorage from neighborhoods to the south in Girdwood.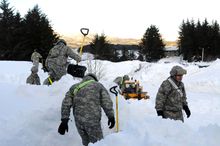 Department of Transportation spokesman Rick Feller said the department followed up with an even larger induced avalanche using explosives fired from a military-style howitzer.
"That showed there was a lot of pent-up energy, and it's been released," he said. The highway will remain closed until noon Wednesday.
The storm knocked out power to parts of Homer on the Kenai Peninsula. Drifts accumulated to 7 feet, Mr. Feller said, and the city put out an advisory to boat owners that 16 inches of snow could accumulate and boats should be cleared.
KMXT-FM in Kodiak said flights to the island city had been canceled and three boats had sunk in local harbors from the weight of snow. In Valdez, the terminus of the trans-Alaska pipeline, forecasters issued a blizzard warning through Wednesday afternoon, with winds to 45 mph and accumulations of 9 of 17 inches of snow on the Richardson Highway at Thompson Pass, the road access out of the community.
Cordova, a fishing community famed for wild Copper River salmon, may have been hardest hit. Since Nov. 1, the city has received 176 inches of snow and 44.24 inches of rain, at times increasing the weight of the snow as it piled up to 6 feet high on roofs.
Accumulations on roofs and walls damaged four commercial buildings and two homes, Mr. Marquette said by phone.
The threat of such collapses prompted the evacuation of an apartment complex, where weight on the roof jammed doorways and windows, making it a fire hazard, Mr. Marquette said. The Red Cross has turned the city recreation center into an emergency shelter.
Dealing with the white stuff has turned into a near military operation. City, state and federal authorities set up a command center to organize its response to the snow emergency. One task: deciding who gets their roof or entryway shoveled first. The community set up a call-in number to report access problems or roof hazards.
"We're sending out teams to assess," Mr. Marquette said. "Everybody thinks it's serious, but you have to go out and assess to prioritize ones that need it the most."
The Alaska National Guard has sent more than 57 soldiers, mostly to wield shovels. The U.S. Coast Guard contributed at least 20 personnel to clean docks and help maintain heavy equipment.