Where is everything?
That could well be the first reaction of visitors to the renovated galleries of impressionist and post-impressionist paintings at the National Gallery of Art when they reopen to the public Jan 29.
No painting is where it used to be when the West Building galleries were closed for major work two years ago. Paintings that once were together are now rooms apart. Edouard Manet's "Railway" shares wall space with Camille Pissarro's "Boulevard des Italiens," but you have to go to another room to find Manet's equally familiar "Still Life With Melon and Peaches," now grouped with — among other works — Paul Cezanne's portrait of his reading father.
Pablo Picasso's early masterpiece "Family of Saltimbanques" co-habits with Amedeo Modigliani and Toulouse-Lautrec. But Modigliani's famous "Nude on a Blue Cushion" hangs elsewhere, along with Auguste Renoir's "Odalisque."
And so it goes on. But what at first seems haphazard — a display that turns viewing into a search for pieces of a jigsaw puzzle scattered all over 14 galleries — slowly emerges (with some help from a few cheat notes placed on easels) as a pattern with a logic all of its own. The NGA has used the opportunity of the re-installation to present one of its strongest — and most viewed — collections in an original and (the NGA hopes) thought-provoking way.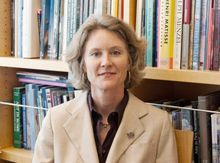 Apart from two monographic galleries — one devoted to Cezanne paintings, including "Boy in a Red Waistcoat," and a smaller one of Claude Monet's best-known London scenes — to remind visitors of how things used to be, each of the other galleries has a different focus. Some 120 paintings are caught up in a narrative that relates to the social dynamics of a France in the throes of the industrial age, and in some instances to the stylistic and historic connection of specific artists with each other.
A core gallery covers Baron Haussmann's major reconstruction of Paris in the middle of the 19th century. Pissarro celebrates it in his bustling canvas of one of the grand boulevards, as does Renoir with "Le Pont Neuf." But Manet looks at the change more skeptically in "The Railway," in which the train is seen as a cloud of white smoke. Yet here is a reminder of how much Paris-based artists owed to rail travel. It was the expansion of the rail network that made it possible for them to make very productive trips to the coast and the country.
Another gallery salutes the grandes dames of impressionism — the American Mary Cassatt (six paintings, no less, including "The Boating Party") and Berthe Morisot — but also includes three women's portraits by Edgar Degas, and Monet's painting of the artist's son Jean in his cradle.
The next gallery is all sunlight, girls in beautiful dresses, the countryside, flowers — all the features many associate with the impressionists. This grouping of mostly Monets and Renoirs includes the latter's "A Girl With a Watering Can" and the former's "The Bridge at Argenteuil," one of 13 works that have been recently restored.
The NGA is one of several major institutions to try a new approach to displaying its collection in the past few years. Most recently, for example, the Musee d'Orsay in Paris reopened its impressionist galleries after structural renovations, with the focus more on the history of the collection, with references to the big donors. The Museum of Modern Art in New York also launched a radical redesign of its American art galleries.
"Understanding of pictures changes every generation, and you have to keep up with that," said Mary Morton, curator and head of French paintings at the NGA.
Ms. Morton, who took up her post two years ago this month, was the driving force behind the conceptual change. Faced with empty, renovated galleries with new lighting and walls freshly painted in neutral colors (warm grays, greens and blues), "We kept the basic chronology," she said, "but diverged from the monographic approach where you had all the Monets together, all the Renoirs together, and planned a re-installation that made visual sense based on the particular idea that the objects group together."
The revamped rooms in the National Gallery's West Building open with the Barbizon school, the avant-garde movement in French painting in the 1840s and 1850s, and end with works from Picasso's Blue Period and his Rose Period.
During these phases, "Picasso is looking at Toulouse-Lautrec," Ms. Morton said. "Picasso's not looking at Modigliani so much, but Modigliani is looking at Picasso.
"These pictures, they tell you what they need to have happen so they can have dialogues and conversations with each other. They push each other around."