STEAMBOAT SPRINGS, Colo. — If you think Ski Town USA is only about the skiing, think again.
Winter in Steamboat Springs can be a time to try everything from fly-fishing to hot-air ballooning to skinny dipping in a remote natural hot springs.
Want some indoor activities? How about Pilates, knitting classes or throwing a bowl on a potter's wheel.
All that variety exists because of the balance Steamboat has struck as a vacation destination and a town in its own right. In fact, the number of hotel beds is nearly equal to the number of residents — about 12,000.
In years like the current one, when ski resorts in Colorado have had a slow start because of a dearth of snow, the off-the-slope activities have salvaged many a vacation.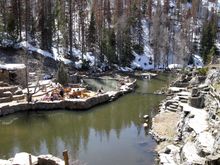 Steamboat Springs, located about 150 miles northwest of Denver, was named in the 1860s by French fur trappers who thought the mineral springs they heard sounded like a steamboat. Its nickname, Ski Town USA, recognizes that Steamboat has produced more winter Olympians than any other town in North America: 79, including 17 who went in 2010.
"Laid-back. Genuine. Fun. There's arguably no other resort that surpasses Steamboat's down-to-earth vibe," SKI Magazine wrote in ranking Steamboat No. 8 in its 2011 Top North American Resort Guide.
Steamboat has been working to hold onto that down-to-earth feeling while spending $1 billion over the past five years on "Steamboat Unbridled," a renovation and improvement effort for the town, the base of the ski area, and the Steamboat/Hayden airport, located 25 miles west of town. Nearly complete, it has given the area a fresher, funkier look and feel.
Activities in Steamboat are grouped into three general areas; on Mount Werner near the Steamboat Ski Area, in the Old Town district three miles away, or out of town in Routt County. Free public bus service, private resort shuttles and tour operators offer transportation to the various landmarks. Here are some details. For activities that are weather or snow-dependent, call ahead to check on conditions.
Steamboat ski area: Steamboat is traditionally known for its deep, light, dry snow, and has trademarked the name "Champagne Powder" to describe it. When conditions are good, those willing to pay a premium can indulge in first tracks before the lifts open to the public.
This year, in early January, there was far more sunshine than snow, with only 75 percent of the trails open for skiing. Despite the spring-like conditions, the Steamboat Ski School was offering a full roster of lessons in ski racing, telemark skiing, park and pipe freestyle, and snowbiking (on special bikes fitted with skis).
Regular opportunities to ski with a naturalist are offered by the environmental group Yampatika, which also offers snowshoe tours. Strenuous trips visit an old mine while family groups stick to more level terrain.
A variety of surprisingly good dining options are offered on the mountain, and my family prefers the eclectic food in the Thunderhead or Rendezvous Saddle lodges to the burger joints at the base.
After a day of skiing, wine tastings and two friendly dogs can often be enjoyed at Ski Town Wine & Spirits in the Steamboat Grand hotel.
A few doors up, Enzo's Pizzeria makes pies with homemade mozzarella that are the best I've had outside of Italy. Save room for dessert, made by Chocolate Soup Pastry Cafe, whose macaroons are so delicious they are now carried by some Whole Foods stores. For fine dining, Cafe Diva is the perfect date spot. The recipe for their Mediterranean lamb shanks can be found online in old Bon Appetit magazines.