PASADENA, Calif. — Former Vice President Al Gore on Friday described Current TV as the "consistent" liberal TV network compared with MSNBC, and said it will keep Keith Olbermann in the fold.
Mr. Olbermann, Current's most popular personality, didn't participate in Iowa and New Hampshire political coverage, reportedly because he was upset over production problems at the network.
"He's fine," said Mr. Gore, chairman of the network in 63 million U.S. homes, dismissing rumors that Mr. Olbermann was seeking to leave. "He has been the key to our ability to pivot and develop our whole network as a progressive news and commentary network."
Mr. Gore himself has taken on the role of pundit, working as a commentator for Current's political night coverage on Iowa and New Hampshire.
While he said it's been fun, Mr. Gore said in an interview that he has no desire for a regular on-camera job.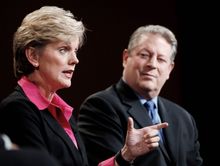 Current is touting Mr. Gore and former Michigan Gov. Jennifer Granholm, a regular prime-time personality, as offering a unique perspective since they have held political office and aren't like the journalists or political advisers on other networks. Mrs. Granholm's prime-time show "The War Room" is beginning this month.
"They've got a few progressive shows on MSNBC in prime time," Mr. Gore said, "but they'll start the day with a conservative show in the mornings, and then they'll get the prison channel on the weekends. They'll be all over the lot in the middle of the day. We're consistent."
Joel Hyatt, Current's CEO, said MSNBC only became liberal after Mr. Olbermann — who used to work there — made his show politically pointed and it showed ratings growth.
"There is no authenticity to the MSNBC brand," he said.
MSNBC spokesman Jeremy Gaines said he would not comment.
A report issued by the cable analysts SNL Kagan on Friday suggested keeping Mr. Olbermann and improving his ratings could be key to the network's survival.
"The potential is there, but Current will need to get its programming act together or it could face the possibility of being dropped by some distributors," wrote Kagan analyst Derek Baine.