ASUNCION, Paraguay — Paraguay's National Congress closed its doors in December for more than two months of paid vacation, showing no interest in giving President Fernando Lugo anything on his wish list, even after lawmakers return to work in March.
Mr. Lugo's allies also are giving him the silent treatment. It's as if the entire political system has agreed to take a siesta until his five-year term is over.
Long legislative breaks are common in South America, where most governments shut down for the summer. But Paraguay sets the standard for collective stupor.
Most businesses and public offices close at midday, even during the relatively cooler months. Students attend classes in four-hour shifts in schools that lack air conditioning. Streets empty each afternoon as people seek refuge indoors.
Even the clocks seem to run more slowly from December through February, when the humidity thickens and temperatures soar to 122 in the sun and 109 in the shade.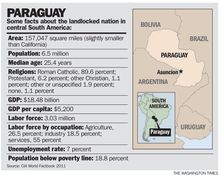 Still, the indifference Paraguay's lawmakers have shown to Mr. Lugo's proposals is striking. His 2008 election disrupted 61 years of right-wing Colorado Party rule, but he has hardly any reliable votes in Congress and his opponents dominate most government functions.
Increasingly, they seem determined to prevent the left-leaning former Roman Catholic bishop from keeping any more of the promises that swept him into office.
Mr. Lugo pleaded with lawmakers last month to implement a 10 percent tax on personal income, first approved in 2004. He noted that booming soy and cattle exports boosted Paraguay's gross domestic product by 14.5 percent last year, one of the highest in the world.
The windfall profits went almost entirely to a tiny elite, however, while the government remains starved of revenues, the president said.
"We won't defeat extreme poverty if we don't change the economic matrix," Mr. Lugo said. "In Paraguay, the tax burden is only 13 percent, and it's the only country without a personal income tax. We need more resources to bring forward plans to eliminate social inequality."
The International Monetary Fund agrees with the liberation theologist on this point, insisting in its annual report on Paraguay that the country must collect more revenue.
Economists generally recommend 30 percent or more overall taxation to provide for a country's people. In the U.S., the tax burden is about 27 percent, according to the Bureau of Economic Analysis. In Europe's leading economies, the tax burden is more than 40 percent.
"We're concerned because the tax reforms aren't advancing," IMF representative Lisandro Abrego concluded during a visit to Paraguay's capital, Asuncion. "This country needs to raise its revenues to finance its economic development."
But Mr. Lugo's opponents stood firm before closing Congress last month: Incomes won't be taxed until January 2013, just four months before the end of his presidency.
Poverty has declined from 38 percent to 35 percent during Mr. Lugo's term as the economy has expanded, but 20 percent still live in extreme poverty, aptly described here as "misery," just as they have for the past 50 years.