The Occupy Congress rally that organizers guaranteed would unite thousands of supporters under a banner of anti-government greed in fact spurred only one collective opinion: underwhelming numbers.
A steady stream of protesters filed into the West Lawn of the Capitol at 9 a.m. Tuesday, but the rally grew no larger than several hundred people, a number far south of the 10,000 that the Associated Press reported the permit allowed.
"I was expecting more," said Jeff Balinsky, 23, of Annapolis about the turnout. "But it will probably look bigger on the Internet, which is important."
The daylong rally was Occupy D.C.'s first and largest in more than a month, with protesters from the Occupy D.C. camp joining occupiers from as far away as California as they marched on Capitol Hill offices.
The last demonstration was a December blockade of K Street Northwest, the heart of Washington's lobbying corridor, which resulted in mass arrests.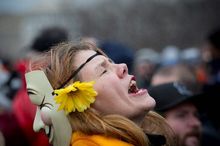 The national Occupy movement started in September as a protest against what participants saw as unfair practices by Wall Street and the federal government and to argue that only 1 percent of the population controls most of the country's wealth.
Protesters spent much of Tuesday morning milling around the West Lawn, eating an oatmeal breakfast and waving homemade signs as familiar chants such as "We are the 99 percent" were heard across the field.
At 6 p.m., protesters who remained on the lawn turned their attention to the lack of voting rights for the District.
Josh Smith, a co-founder of Occupy New Haven in Connecticut came to Washington with about 50 fellow Occupiers.
"It's always all over the place with these kinds of movements," Mr. Smith, 28, said of the protest's mixed messages. "It's kind of a double-edged sword: It can be co-opted very easily, but a lot of people are concerned that because we don't have a single unifying message, we won't be taken seriously."
The local Occupy camp has been in McPherson Square in Northwest for the past three months without major problems. But with colder temperatures, the camp's ranks have thinned. And Mayor Vincent C. Gray recently expressed concern about an increased rat population around the park, suggesting consolidating the McPherson camp with a similar one in Freedom Plaza, on Pennsylvania Avenue, to allow the city to clean up the park.
In addition, Rep. Darrell Issa, California Republican and chairman of the House Oversight and Government Reform Committee, is questioning why the protesters have been allowed to camp in the park at all.
The committee will hold a hearing on the issue Tuesday that is scheduled to include testimony from officials with the National Park Service and the District's police and the health departments.
Organizers from both camps rejected the idea Tuesday, saying in part that each has a different form of leadership and decision-making.
"Having two camps is ideal," McPherson Square dweller Brian Eister said. "The two camps have decidedly different atmospheres: Freedom Plaza is more calm, but McPherson Square is more inclusive."