MIAMI — Kobe Bryant is 33 years old, has spent nearly half his life in the NBA, is dealing with a significant wrist injury and has taken about 3,000 more shots in his career than any other active player.
Given all that, some may think he's a candidate to start slowing down.
LeBron James is not among those who would even consider that possible.
The NBA's top two scorers this season - Bryant at 30.8 points per game, James at 29.8 - go head-to-head Thursday night, when the Los Angeles Lakers visit the Miami Heat. Even with subplots including James facing his former Cleveland coach in the Lakers' Mike Brown, the possibility that Dwyane Wade may sit out again with a sprained right ankle and hints that Miami center Eddy Curry may make his Heat debut, all eyes will be on one thing.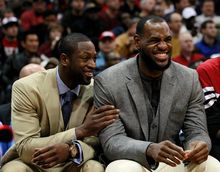 "We know how great of a player, how competitive he is," James said. "And he's not going to sell himself short, either. … He's a scorer. He's a flat-out scorer."
Bryant is coming off a stretch where he scored at least 40 points in four straight games, a streak snapped in a 73-70 win over Dallas on Monday night. Bryant entered Wednesday ranking seventh in the NBA in minutes per game (37.7), a stat made even more impressive when considering that only one of the six players ahead of him on that list is older than 27.
"I do want to get it down," Brown said. "He's played a ton of minutes too early right now."
Hey, if Brown wants to start that policy Thursday, it doesn't sound like the Heat would complain.
"He looks healthier and quicker than he did last year," Heat coach Erik Spoelstra said. "I think everybody knew he wasn't 100 percent last year. He was just grinding through it, and the lockout was probably beneficial for him. … He looks very lean. He looks in great shape."
The Lakers have played 10 of their first 15 games at home (or 11, technically, since one of their five "road" games was at the Los Angeles Clippers). This trip is a quick but lengthy one, with the Lakers flying cross-country Wednesday, visiting Miami on Thursday, Orlando on Friday and then heading back home for a matchup Sunday against Indiana.
It's the first Eastern Conference trip of the year for the Lakers.
"Just get ready. Just get ready," Bryant said, when asked what the Lakers needed to do to prep for Miami and Orlando. "It's our first really long road trip in terms of distance and travel and with a new coaching staff, kind of getting used to the travel schedule and how they do things. Looking forward to it."
Some would say that scoring wise, Bryant looks as good as ever.
Sure, it's early, but Bryant is on pace to average 30 points for the first time in five seasons. And he's putting up those numbers even though a ligament issue in his right wrist - his shooting side - is hampering him at times on long jumpers, noted by his career-low 24 percent success rate from 3-point range this year.