PHILADELPHIA — Marc Staal's last game came April 23. Post-concussion symptoms prevented the New York Rangers defenseman from even skating for a long time and playing in a game for nine months.
The Winter Classic was looming, but it wasn't on his mind. That was very intentional.
"To be honest, I kind of wrote it off for a long time just so that when the day came and I wasn't playing, it wouldn't bother me as much," Staal said.
Monday came and Staal was in the lineup, a successful return on the perfect stage despite just 20 shifts and a plus-1 rating in the Rangers' 3-2 victory over the Philadelphia Flyers at Citizens Bank Park.
"I feel good. No problems. I didn't play a whole lot, but that was the plan," Staal said. "We talked about that last night. I made some mistakes out there, but I'll try to get better."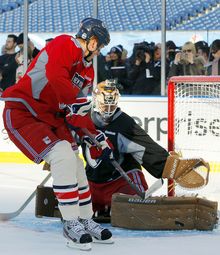 Just having Staal on the ice was a big lift for the Rangers, who thrived without the All-Star defenseman but are an even stronger team with him.
"He looked pretty good," Ryan McDonagh said. "You can tell he's back there when he's on the ice. His big body, his big reach helps us."
Staal's part in this game was limited, though he did take part in key penalty-killing situations. He admitted easing back into game action, and even the decision to play wasn't easy.
The 24-year-old recalled a conversation with a team doctor and being told that if he got hit Monday or later in the week it wouldn't matter.
"I thought about it for a few hours," Staal said. "I think once I made the decision to get in, it was easier to just focus on the game and focus on what to do."
Staal's presence will undoubtedly help moving forward for the Rangers, who tied the Chicago Blackhawks atop the NHL standings. The transition back to life as a No. 1 defenseman could take time, and at some point he's expected to take his rightful place next to defensive partner Dan Girardi.
But for now, the Winter Classic was a day to celebrate Staal being back.
"It's a good start for him," McDonagh said, "and I'm just really happy he got to experience this with us."
Before the game, Rangers coach John Tortorella pointed to dinner conversations with a team doctor, trainer and Staal himself as the reason for the surprise move.
"I needed a yes or a no," Tortorella said. "I got a yes from a trainer, I got a yes from a doctor and I, more importantly, got a yes from the player. He's going to play; I don't care if we're playing in a creek somewhere. He's going to play.