TAMPA, Fla. — Mitt Romney delivered stinging attacks against Newt Gingrich's record and overall character in the debate here Monday, as he looked to halt the wave of momentum the former House speaker is riding from his recent victory in the South Carolina primary.
The new landscape of the GOP nomination race became clear minutes into the debate, when the former Massachusetts governor accused Mr. Gingrich of personally benefiting from the work he did on behalf for the chief lobbyist for Freddie Mac — suggesting he was paid upwards of $1.6 million at a time when Floridians suffered from the housing crises that some blame in part on the government-backed housing mortgage giant.
Mr. Romney also said that after getting chased him out of his speakership by fellow Republicans, Mr. Gingrich went on to peddle his influence on Capitol Hill, suggesting he was paid by health companies to lobby lawmakers in support of the Medicare Part D program that passed Congress in 2003 — and that now costs taxpayers tens of billions of dollars a year.
"If you're getting paid by health companies, if your entities are getting paid by health companies that could benefit from a piece of legislation, and you then meet with Republican congressmen and encourage them to support that legislation, you can call it whatever you like. I call it influence peddling," Mr. Romney told Mr. Gingrich.
Mr. Gingrich dismissed Mr. Romney's claims and accused him of habitually twisting the truth. "I think it's pretty clear to say that I have never, ever gone and done any lobbying," he said, encouraging people to look at the contract with Freddie Mac. He also defended his decision to support the prescription drug program, saying he is "proud of the fact that I publicly, openly advocated Medicare Part D."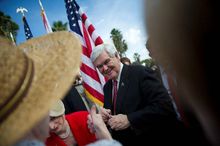 The two men, though, did agree on something: that the children of illegal immigrants should be provided the option of having a path to citizenship if they serve in the U.S. military.
With nine days to go before the Florida primary, the political dogfight served as a reminder of how much is riding on the Sunshine State.
The GOP presidential field, rounded out by Texas Rep. Ron Paul and former Pennsylvania Sen. Rick Santorum, is duking it out over the state's 50 delegates and trying to corral momentum in the tumultuous nomination race, which has featured three different winners in as many nomination contests.
Aired on NBC and co-sponsored by the Tampa Bay Times and the National Journal, the debate came two days after Mr. Gingrich won the South Carolina primary in a landslide — delivering a serious blow to the air of inevitability that has hovered over Mr. Romney's candidacy following his victory in New Hampshire's primary and strong showing in the Iowa caucuses.
The result put Mr. Gingrich in the crosshairs of all his rivals on Monday. Mr. Paul shrugged off Mr. Gingrich's claim that he willingly stepped aside from the House's top post in 1999.
"He didn't have the votes," the 12-term Texas congressman said, of his attempt to keep the speakership. "That was what the problem was. So this idea that he voluntarily reneged and he was going to punish himself because we didn't do well in the election, that's just not the way it was."
Asked about "The Dream Act," which would grant legal status to illegal-immigrant students and young adults, Mr. Gingrich repeated his instance that he would support a scaled-down version of the bill that carved out a military exception.
"I think any young person living in the United States who happened to have been brought here by their parents when they were very young should have the same opportunity to join the American military and earn citizenship which they would have had from back home," Mr. Gingrich said.
Mr. Romney agreed. "I just note that's the same position that I have, and that is that I would not sign the DREAM Act as it currently exists, but I would sign the DREAM Act if it were focused on military service," he said.
Mr. Romney has been the most ardent opponent of amnesty for illegal immigrations. Pressed for a more detailed explanation on how he would deal with the millions of undocumented people living in the United States, the ex-governor said that a strong E-verify system would prevent people from getting work and encourage them to leave the country.