Alex Ovechkin likes to hit. He plays on the edge. Sometimes that costs him, like this week when he was dealt a three-game suspension that knocks the Washington Capitals star out until Feb. 4.
In the process, he'll skip the NHL All-Star Game and take some time off. But the question again turns to whether Ovechkin will tone down his game following the third suspension in his six-year career.
"Yeah, we're concerned about it, certainly. But what we want him to do when he comes back is play the way he's always played," general manager George McPhee said. "We want him to be relentless, we want him to score goals. We want him to be physical."
Ovechkin has noted that he's not paid $9 million just for hits; the Capitals need him to score. But like so many players, hits get Ovechkin into a game better, and he seems to elevate his play when throwing the body around.
Because of that, teammates hope he doesn't lose the bite to his game, and they don't expect him to.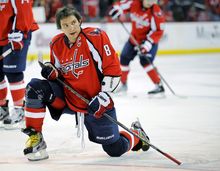 "I hope he's not pulling back. I mean the rest of the league's probably thinking, 'I hope he's pulling back.' I don't think you can ever really take the nature out of a competitor," forward Brooks Laich said. "Alex plays hard, Alex plays physical. Maybe it'll settle him down for a day or two, but I don't think you're ever going to really take that out of him."
On the hit that drew the suspension, Ovechkin left his feet and "launched" himself into Pittsburgh Penguins defenseman Zbynek Michalek, according to NHL vice president of player safety Brendan Shanahan. Ovechkin and the Caps predictably disagreed with the league's ruling.
"My game is play physical, my game is play hard. I don't think it was a dirty hit," the captain said. "Yeah, I jumped but … I don't get two minutes. I don't think it was a three-game suspension."
Ovechkin lining opponents up from a few steps away is part of his playing on the edge between acceptable hits and charging penalties. McPhee pointed out that rule changes and philosophical shifts over recent years have changed the game and perhaps moved the line between what's legal and illegal.
The gray area has been eliminated, which McPhee said was a good thing, but it's not all perfect.
"Ovie, like a lot of players, is trying to adjust to it. It's hard. It's a big adjustment," McPhee said. "We've had a lot of players disciplined this year — and last year — for certain hits. When you take a player like Ovechkin, who's incredibly physical, who's in the top 10 in hits in this league every year that he's been in the league, they're not all going to go his way."
Because of that reputation, and two suspensions from the 2009-10 season, Ovechkin's history as a repeat offender was taken into account. But McPhee retroactively criticized a two-game suspension for a March 2010 hit on defenseman Brian Campbell, then with Chicago, while arguing against this ban.
"I was disappointed in the suspension because he's considered a repeat offender, and I don't believe he should have been suspended in the past for at least one of those hits. The one in Chicago — he outweighed the player by 50 pounds, it's not his fault," McPhee said. "And there was a lot of gray then. I think we've cleaned up the gray, and it's clearer now what we're trying to do. But I think that was a factor in this decision, and I don't think it should have been."
Teammates didn't raise an uproar over Ovechkin's suspension, with defenseman Karl Alzner saying he could understand where Shanahan was coming from. Instead, they lamented not having Ovechkin in the lineup, starting with Tuesday night's game against the Boston Bruins at Verizon Center.
Veteran forward Mike Knuble said "there might be moments when [Ovechkin will] have to pull back a little bit." That's because of his value to Washington and the league's emphasis on cutting down on questionable hits.