The Phillips Collection houses a dazzling array of works by a wide range of artists, among them Picasso, Renoir, Modgliani, Byron Beckford …
Byron who?
The young Beckford, a 12-year-old student from Takoma Education Campus in Northwest, has an abstract cityscape of the District's Ward 8 currently on display in a show of paintings by 50 young artists from two D.C. schools. The other school is Tyler Elementary in Southeast Washington.
The exhibition is the end product of the Phillips' children's art program for D.C. public schools called Art Links: Museum in Residence.
Every month, art teachers work with students in two selected schools, and their work is then shown in the gallery's new wing.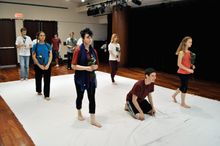 "The exhibition is a professional job, properly hung and lit," says Suzanne Wright, who heads the Phillips' education programs. "The children love it. It engenders a kind of empowerment to see their work on display."
The Phillips program is one of an impressive number sponsored by local museums, theaters and related institutions run mainly through public schools and designed to hook young Washingtonians on the arts.
"You're never too young or too old to start loving art," proclaims the National Gallery of Art's website.
"Museum directors, educators, and marketing experts now recognize increasingly that this audience represents the pulse of contemporary culture," an article on the Association of American Museums' website stated.
Hence, the National Gallery of Art's elaborate smorgasbord of children's education programs, ranging from gallery tours for children from kindergarten to an expertly crafted NGAKids website that is both interactive and instructive. Currently, it shows Leonardo da Vinci's fingerprints on his portrait of Ginevra de Benci.
NGAKids averages almost 43,000 hits a day, and it's estimated that some 49,570 children tour the National Gallery every year (which is still a drop in the bucket compared to the hundreds of thousands who visit the Smithsonian's 19 establishments yearly).
The District's theaters are equally child-conscious. On Feb. 20 the Gala Hispanic Theatre is bringing back its production of "Don Quixote" for a high-school matinee at 10 a.m. Ordinarily, the Gala stages children's matinees of its current productions - when suitable. Some performances have a discounted ticket rate of $15, but there are deals, says Camille Citron, the company's spokesperson.
There are surtitles too for the linguistically challenged, but the point of the Gala school performances is to expose children to Spanish. The Gala has a children's theater company that gives separate performances and has for years run the Children's Film Festival.
The Classika Theater (now merged with the Synetic Theater) in Arlington is well known for staging grown-up plays for children: European classics and modern comedies presented with flair, color, and originality. Classika also runs workshops for kids who want to learn more about the inner workings of the theater.
The Shakespeare Theater Company runs Camp Shakespeare (June 18-Aug. 11) for children and youths ranging in age from 9 to 18. The summer day camp offers an array of two-week sessions focused on acting, language and craft in the Bard's plays, each session culminating in a performance of Shakespearean scenes onstage at the Shakespeare Theatre Company.