ANALYSIS/OPINION
The Redskins are awful, and the Capitals are disappointing. The Nationals could be a year away; Mark Turgeon's Terrapins might be two. And the Wizards will be 0-7 unless they somehow manage to upset the New York Knicks on Friday at Verizon Center.
Granted, the competition hasn't been stiff. But the Georgetown men's basketball team is running away as metro Washington's best major sports outfit. The Hoyas' surge is even more enjoyable because their performance was totally unexpected.
The joy ride seemed headed for a speed bump Wednesday night against No. 20 Marquette, which enjoyed a 17-point lead with 13 minutes left. Georgetown's No. 9 ranking and 10-game winning were in serious jeopardy, but the young Hoyas — especially the young ones — rallied for a stirring comeback that thrilled the crowd of 11,213.
Senior Jason Clark led all scorers with 26 points, and the only other Hoyas in double figures were the only upperclassmen — senior Henry Sims (13) and junior Hollis Thompson (16, including the game-winning 3-pointer with 24 seconds left). But Georgetown's impressive freshmen played invaluable roles in the improbable 73-70 victory.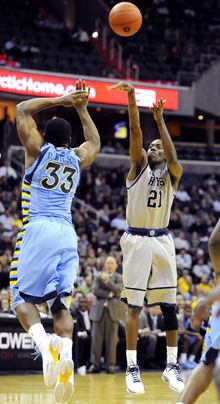 Perhaps owner Ted Leonsis should instruct Verizon Center workers to leave the Hoyas' court in place for Friday, hoping that Georgetown's characteristics rub off on his Wizards. They certainly could use a dose or 12 of the Hoyas' patience, trust, unselfishness and commitment.
There was Thompson, the team's second-leading scorer and rebounder, sitting for an eight-minute stretch in the second half, with fouls not an issue. There was Sims, the centerpiece on both ends of the court, sitting for a six-minute stretch while similarly free of foul trouble.
The lineup that shaved off most of the 17-point deficit was Clark and freshmen Otto Porter, Jabril Trawick, Greg Whittington and Mikael Hopkins. "I can't lie," Thompson said of his extended pine time. "It did feel odd. But at the same time, when you saw what was going on, you had to be happy with that."
From the start, coach John Thompson III has taken pleasure in his team's flexible nature and interchangeable parts. Although Hollis Thompson disappointed him at times Wednesday as Marquette built its big lead, JT3 said he wasn't making a point by benching him.
"I don't necessarily say, 'Let me send him a message,' " JT3 said after the Hoyas improved to 13-1 (3-0 in the Big East). "It was more 'This group is playing well.' The group that was out there was getting stops and playing Georgetown defense and we left them out there."
The Hoyas hunkered down on defense after intermission, limiting Marquette to six field goals and forcing 11 turnovers. And their execution on offense was a thing of beauty, 16-of-21 from the floor. From the back-door cuts for layups, to the ball movement for open jumpers, Georgetown's multifaceted attack was on full display.
"They're hard to defend," Marquette coach Buzz Williams said. "They're really good players. They're really well coached. They do a good job of staying within what they do. It's a combination of all of it."
That's all we've got around here at the moment, other than the Prince Fielder watch.
The woeful Wizards still are wretched. The Nationals don't report to spring training for another six weeks. Maryland's March Madness prospects aren't promising. Further away still is the Redskins' attempt to land a franchise quarterback, perhaps in the NFL draft, and the Caps' attempt to reverse their trend of regular-season success followed by postseason mess.
Georgetown's early success — it's the nation's only team with four victories against ranked opponents — is extra special because it was unanticipated. But that's not the only reason. We can take additional pleasure in the Hoyas' progress because they're growing before our eyes.