TUCSON, Ariz. (AP) — Bells rang out across Tucson on Sunday to mark exactly one year since a bloody morning when a gunman's deadly rampage shook a community and shocked a nation.
It's been a year of reflecting on lives shattered, of struggling with flashbacks and nightmares, of replaying the what-ifs before the deadly rampage. And in the middle of it, one woman — Rep. Gabrielle Giffords — forging one of the most grueling journeys back of all.
One year after a deranged gunman shot Mrs. Giffords, Arizona Democrat, in the head and opened fire on dozens of others at a Tucson grocery store, the congresswoman and other survivors were gathering Sunday to reflect and move forward.
Many throughout the close-knit southern Arizona community began the day of remembrance Sunday by ringing bells at 10:11 a.m., the exact time the gunman shot Mrs. Giffords and methodically moved down a line of people waiting to talk to her during a congressional meet-and-greet on Jan. 8, 2011.
Six people were killed, including 9-year-old Christina-Taylor Green, born on Sept. 11, 2001, and a federal judge. Thirteen others were shot, including Mrs. Giffords.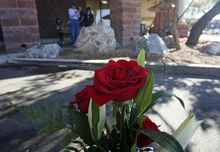 Gail Gardiner, 70, who lives about a mile away from the Safeway where the shooting happened, went to the store Sunday and tied a balloon with the words "Thinking of you" onto a railing next to a memorial of the shooting that reads: "The Tucson Tragedy … we shall never forget."
"This is my backyard, and this is where I want to be and show people that we remember this," Ms. Gardiner said. "It just hits so close to home, and so many innocent people's lives were taken and changed forever."
She and about 30 others rang hand-held bells, hugged one another and cried as the time of the shooting passed. Many bowed their heads in prayer.
Bruce Ellis and his wife, Kelly Hardesty, both 50, wept as the bells rang and held each other tight.
"It's shocking to have a massacre like this occur in your backyard," Mr. Ellis said. "It's something that happens on the news, not in your neighborhood."
Mrs. Hardesty said she was on the way to the store just before the shooting broke out.
"I'm just thinking about the little girl, Christina, and Judge (John) Roll, and those who were killed and just all that we lost," Mrs. Hardesty said.
Albert Pesqueira, assistant fire chief for the Northwest Fire District in Tucson, was one of the first responders to the shooting. He came to the Safeway on Sunday to remember and to heal.
His most vivid memories from that day are the sounds of moaning and crying among shooting victims in the aftermath of the attack.
"I can still hear them," Assistant Chief Pesqueira said. "We'll never be the same. We'll never be normal again because of what occurred."