D.C. Public Schools officials failed to report an allegation of child sexual abuse to the Child and Family Services Agency (CFSA) and, instead, retaliated against the Ward 7 activist who alerted them to it, then lied about a report having been made, council member Phil Mendelson says in a letter to Chancellor Kaya Henderson.
The Washington Times reported last week that school officials had barred Southeast resident Geraldine Washington from Randle Highlands Elementary School last month after Ms. Washington informed the school's principal that a first-grader who is a classmate of her nephew volunteered that another student had touched his "private parts."
"This entire affair puts the [D.C. Public Schools] in an appalling light," Mr. Mendelson wrote in a Jan. 6 letter, obtained by The Times. "When a principal, who is a mandatory reporter, was informed of possible child sexual abuse, she failed to report it. When her failure was caught, she retaliated. When I began to probe, the system circled the wagons and lied that a report had been made.
"Throughout, various administrators insisted that they take allegations of abuse very seriously," he said.
Last week, public schools spokesman Hassan Charles said interim Principal Tracy Foster reported the matter to CFSA and was advised to talk to the children's parents, who elected not to involve authorities and complained that Ms. Washington was a threat to their children.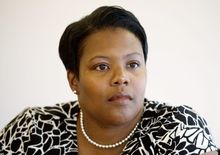 Mr. Charles added that the decision to bar Ms. Washington was based on a "pattern of irrational behavior" and dismissed the matter as a "minor issue," based on Ms. Foster's conference with the parents of the children involved — one of whom lives in Maryland, according to court records.
"We have much more important issues to address," he told The Times. "I'm not going to continue spending time talking to you about this."
On Monday, in a written statement, Mr. Charles did not reiterate his claim that Ms. Foster met her reporting allegation, nor did he deny Mr. Mendelson's claim that she did not, or the claim that school officials "lied" about the matter. Rather, he focused on the decision to bar Ms. Washington, which the school system is not backing away from, and has questioned whether a reporter with The Times has children.
"At [D.C. Public Schools], we are entrusted with people's children every single day," he wrote. "If, in fact, any DCPS parent feels their child is in danger while in our care, it is our absolute responsibility to ardently investigate the allegation, take immediate steps to ensure the safety of said student(s), and pursue whatever interventions are necessary to ensure they are not, and will never be, placed in harm's way.
"Given the information that was presented, DCPS feels the correct decision was made in issuing this barring notice. Under no circumstances will we take chances with our children."
Mr. Mendelson disagrees, according to his letter, and said he thinks barring Ms. Washington was retaliatory and unjustified.
"As long as her barring notice remains effective it sends a message that the school system won't tolerate critics, and that it prefers retaliation over the proper investigation of abuse," he wrote.
CFSA officials did not respond to requests for comment. Nor did any of the parents contacted by The Times.
Ms. Washington, who ordinarily escorts her nephew to school each day, informed Ms. Foster in a Nov. 18 email that her nephew's classmate had come to her with claims that another student had touched him, according to emails obtained by The Times.
"This is the third incident I am aware of as this same child 'touched the private area' of another classmate last year," Ms. Washington wrote. "It leaves me wondering whether lawful and appropriate action, follow-up and counseling has been afforded this child. How many other children may be exposed to his molestation?"