ATLANTA — As manager Davey Johnson strolled around the Nationals' clubhouse Sunday morning, he made a calculated trek to find his All-Stars.
First to shortstop Ian Desmond, a player in whom Johnson's confidence has been paramount toward his results. Then to Gio Gonzalez, who pulled him in for a hug instead of the handshake he offered. And, ultimately, he found his way to Stephen Strasburg, his ace.
At each stop, all he could do was smile.
"That's more like it," Johnson said, recalling all the years the Nationals only had the one requisite selection. "Three of my boys are on the All-Star team. And I'm proud of them."
A year ago, who knew he could have this joyful task?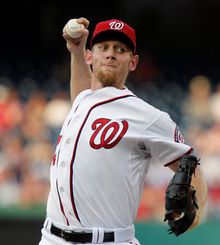 Strasburg was slaving away under the Florida sun taking incremental steps toward his return to the major leagues. He was learning to pitch with a new ulnar collateral ligament in his right elbow and still more than a month away from his first minor league rehab start.
Desmond was hitting .222, had 12 doubles and three homers and plenty were calling for the Nationals to give up on him. He was searching for an answer, for a way out of a funk he knew didn't display the type of player he was.
Gonzalez was a member of the Oakland Athletics. The Nationals and the possibility of being a part of the best pitching staff in the majors were not on his mind.
On Sunday, they were named All-Stars, marking the first time that the Nationals will send more than two representatives to the Mid-Summer Classic. Their 19-year-old phenom, Bryce Harper, could make it four, if he's selected out of five contestants — including the Braves' Chipper Jones — for the Final Vote.
"It kind of shows you how the times are changing around here," said third baseman Ryan Zimmerman. "Before we had one guy a year because we had to, kind of. But those three guys have been great."
"This one means a little bit more," Gonzalez said. "Because everyone played a big part of it and everyone worked really hard. I'm not taking anything away from Oakland. … But it feels like we all did something big today."
Strasburg and Gonzalez were shoo-ins. Strasburg, less than two years removed from Tommy John surgery, is 9-3 with a 2.81 ERA. He is on an innings limit, but the Nationals have said that if selected, and on schedule to pitch, he would be allowed to throw in the All-Star Game. Gonzalez, an All-Star for the second straight season, is 11-3 with a 3.01 ERA. The Nationals are 25-7 in games started by the two of them.
"It's going to be a tremendous experience, and it's a huge honor for me," Strasburg said. "It's amazing to think where I was a year ago. It's great to see the hard work has all paid off, but it's not done. It's only the halfway point in the year, and we've still got a long ways to go.
"I'm excited to be a part of [the All-Star Game], but at the same time I want to help this team get to a World Series someday and get to the playoffs year in and year out."
But while the pitchers were expected, Desmond — putting together the finest season of his career and one of the finest seasons of any shortstop in the majors- was a deserving candidate, if not a sure thing.