Media mogul Rupert Murdoch weighed in on the Tom Cruise-Katie Holmes divorce story Sunday, saying he thinks Scientologists are "creepy" and possibly evil.
The News Corp. chief urged his Twitter followers to watch the story, which broke Friday when Miss Holmes announced she was filing for divorce from Hollywood A-lister Mr. Cruise, a prominent member of the Church of Scientology.
"Watch Katie Holmes and Scientology story develop. Something creepy, maybe even evil, about these people," Mr. Murdoch said on his Twitter account, "@rupertmurdoch."
The fairy-tale Hollywood couple's split was revealed when Miss Holmes' publicist announced that the actress had filed for divorce after five years of marriage, ending an unexpected love story dogged by tabloid rumors.
A spokesman for Mr. Cruise said the "Mission Impossible" star was "deeply saddened" by the news, fueling reports that his wife's announcement had taken him by surprise.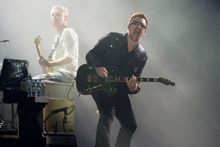 Speculation about why Miss Holmes wanted out has included suggestions that she was concerned that Mr. Cruise was forcing their 6-year-old daughter, Suri, deeper into the Church of Scientology.
The TMZ celebrity news website has reported that Miss Holmes is seeking sole custody of Suri. Citing unnamed sources, it said she feared "that Tom would drag Suri deep into the church."
"We're told the couple had been arguing over Suri — that she's now of the age where Scientology becomes a significant part of her life," it said.
Mr. Murdoch's Scientology comment generated a surge of Twitter traffic, prompting another tweet: "Since Scientology tweet hundreds of attacks. Expect they will increase and get worse and maybe threatening.
"Still stick to my story," he added.
There was no immediate response to an Agence France-Presse request for comment from the Church of Scientology or from publicists for Mr. Cruise or Miss Holmes.
Producer vows to stage Nora Ephron's final play
A lead producer of Nora Ephron's new play, "Lucky Guy," said he is "committed" to getting her biography of a newspaper columnist on a Broadway stage despite the playwright's death last week.
Colin Callender said Thursday that his team "can think of no more fitting tribute to her extraordinary writing and remarkable body of work" than to proceed with plans to produce Ephron's play.
"We are honored to be part of her legacy and remain committed to seeing her magnificent work, 'Lucky Guy,' shine on Broadway," Mr. Callender said in a statement.