Bradley Beal stood at the top of the key and drained jumper after jumper. It was the second day of the Wizards' minicamp, and practice session No. 3 was coming to a close.
The Wizards will have two-a-day sessions from Monday through Wednesday, with a single session Thursday before the team heads to Las Vegas to begin summer-league play.
Beal, who turned 19 on June 28, the day Washington drafted him with the third overall pick, wasn't fazed by the schedule — he was more than ready to get things started.
"I'm very impatient," he said. "It's a learning process at the same time so there are a lot of things I have to learn, a lot of adjustments I have to make. I'm really just trying to learn quick and really just to fit into the system as best as I can."
Beal averaged 14.8 points in his only season at Florida and is expected to help improve the Wizards' lackluster offense. It's a lot of pressure for a rookie but something Beal fully expected the moment he arrived in Washington.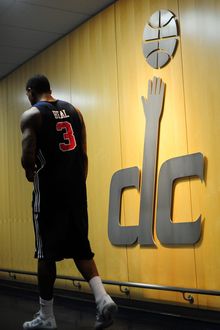 "I've got to hit the ground running," Beal said. "That's just the type of person I am anyway. I don't want to come in and just be laid-back and let things happen."
One of the first hurdles all rookies face, and what Beal knows he must prepare for, is adjusting to the pace of the NBA.
"The speed is very different, the physicality is different as well," Beal said. "Coach [Randy Wittman] expects us to play hard every possession, never take any possessions off. There a lot of things I have to adjust to, but I think I'll be fine."
Wittman is pleased with what he's seen from his shooting guard so far but cautions that Beal is just getting started.
"I liked what I saw in terms of him picking up," Wittman said. "We threw a lot of things at these guys strictly for that, to see who can handle it and who can't. He's got great confidence in who he is, and he came out there [Monday] like he knew what he was doing.
"But," the coach added jokingly, "he didn't have a clue what he was doing, if that makes any sense."
In the early practice sessions, the team worked on drills and half-court work. The evening sessions were devoted to five-on-five scrimmages.
Having teammates Shelvin Mack, Chris Singleton and Jan Vesely as part of the minicamp and summer-league roster will help Beal begin to develop some on-court chemistry.
Beal and Mack already have begun the process of getting to know each other.
"We text all the time," Beal said.