D.C. Mayor Vincent C. Gray's 2010 campaign took part in a secret and illegal effort that funneled hundreds of thousands of dollars to the candidate — a scheme the city's top prosecutor on Tuesday said "compromised" the election.
Prosecutors filed charging papers that outlined a litany of campaign expenses — from Nextel radios to umbrellas to consultants — paid by a deep-pocketed supporter who had an interest in seeing Mr. Gray unseat incumbent Mayor Adrian M. Fenty.
The revelations were made as part of a guilty plea in federal court by Jeanne Harris, 75, who admitted she funneled the undocumented campaign funds through one of her companies and culled "straw donors" who contributed to the Gray campaign in their names but were reimbursed for their donations.
All of the funding for the scheme was provided by a conspirator who went unnamed in court papers, but is widely thought to be prolific D.C. political donor Jeffrey E. Thompson.
Harris' admissions in court mark the first public confirmation of a "shadow" campaign that operated side-by-side with the official effort to elect Mr. Gray to the mayor's office.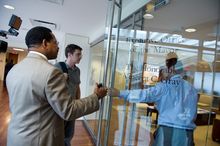 In court, Harris said the scheme was devised by a third, unidentified person after the Gray team told the pair in July 2010 that the campaign needed assistance. Between mid-July and mid-September 2010, the unnamed conspirator issued three checks and two wire transfers from his company to Harris' company that totaled $653,800.
Prosecutors say the funds, which were not reported to the city's Office of Campaign Finance, were used to purchase materials such as T-shirts, yard signs and banners that bore logos and graphics identical to those used by the Gray campaign. The materials were purchased from the same vendors as materials bought by the legitimate campaign and "many, if not all, of these items were delivered to offices associated with (Gray's) campaign," court papers said.
U.S. Attorney Ronald C. Machen Jr. said the crimes related to Mr. Gray's campaign were "troubling" and deceived city voters, but "the truth is going to come out in the end."
"In 2010, the mayoral campaign was compromised by back-room deals, secret payments and a flood of unreported cash," Mr. Machen said. "The people of this city deserve better. They deserve the truth."
The allegations deliver a severe blow to Mr. Gray's political stability at the helm of a city that has seen progress in its day-to-day operations and finances yet appears vulnerable to corrupting practices that plagued its leaders in past decades.
Mr. Gray's first term has been haunted by allegations of an off-the-books effort to get him elected during the summer of 2010. The problems started in March 2011, when minor mayoral candidate Sulaimon Brown said he was paid and promised a job to stay in the race and continue verbal attacks against Mr. Fenty.
Two campaign aides pleaded guilty to making the payments to Mr. Brown. Yet to date, prosecutors have not offered evidence that Mr. Gray knew about the underhanded efforts by his campaign staff, which are being revealed in a series of damaging court appearances.
Harris, a businesswoman and longtime fixture in D.C. politics, appeared before U.S. District Judge Colleen Kollar-Kotelly in a wheelchair but walked to the lectern with the help of a cane to be sworn under oath. She pleaded guilty to two counts of conspiracy and one count of obstruction of justice.
Court papers say Harris acted as a shield for her fellow conspirator, who went to great lengths to make sure he stayed out of the public eye. Among their efforts, Harris created false invoices for services such as "community outreach" so it looked as if her ally was paying her company for business expenses.
When the investigation into the Gray campaign heated up last year, the cohort asked Harris to file an amended tax return to make it look as if he paid one of her companies, Belle International, for services rendered, court papers said.