KANSAS CITY, Mo. — They were playing with teammates, some of whom they'd never met. Sitting in places they rarely frequented.
Stephen Strasburg and Gio Gonzalez found themselves in the bullpen in the second inning of a game — a place neither has ventured in years. Bryce Harper, always a starter, delighted in being on the bench and talking baseball with Chipper Jones.
The Washington Nationals' three All-Stars all played small parts in the National League's 8-0 victory over the American League in the 2012 All-Star Game at Kauffman Stadium. Gonzalez and Strasburg combined for two scoreless innings when the lead was already large. Harper walked, struck out and lost a fly ball in the sky.
But thanks to a huge cushion and the star-studded talent around them, they helped secure a victory more intriguing than ever to fans across the D.C., Maryland and Virginia region.
The Nationals, the NL's best team at the All-Star break with a 49-34 record, might not allow themselves to think of the World Series just yet. But if they did, they'd do so now knowing that Games 1, 2, 6 and 7 would all be at Nationals Park.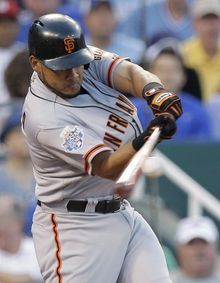 "That's huge for any team that's in there," Harper said. "Hopefully it's us, but we're a long ways away. We're in first place right now but we've got a long season ahead of us. We're excited to get going in the second half. Hopefully we can keep it going in the second half, in the playoffs, and deep into October and November."
Gonzalez could only laugh when asked about the potential impact home field advantage could have for the Nationals. He offered a sheepish grin and looked down at his feet before offering a "no comment on that," adding, "I'm just going to smile about it and wave."
They took to the third base line just before 7:18 p.m. local time, the trio the last three of the NL reserves to be announced. Harper was cheered, his gold cleats made special by Under Armour glistening even amongst a host of brightly-colored competition from his teammates. Strasburg and Gonzalez received polite ovations from the Kansas City crowd.
As the national anthem began, all three knew then they were a part of a special moment.
"We all were just soaking in everything," Strasburg said.
"Your heart races," Gonzalez added. "It's at the top of your throat and you're just enjoying it. You just take a deep breath and enjoy the moment.
"That's when it started sinking in a little bit," Harper said.
Then it was game time. The NL shocked almost everyone by jumping on Tigers ace Justin Verlander — who hit 101 on the radar gun — for five runs in the first inning. Ryan Braun (RBI double) and Pablo Sandoval (three-run triple) did the majority of the damage.
They tacked on three more off Rangers' left-hander Matt Harrison when Melky Cabrera followed Matt Holliday's RBI single with a two-run homer to left field. Cabrera, who earned the game's Most Valuable Player honors, was 2-for-3 and the only player to join Braun with a multi-hit night.
By the time Gonzalez entered, the first pitcher to relieve starter Matt Cain, the game was already out of reach. That didn't stop him from impressing in a perfect inning: 11 pitches, seven strikes, eight fastballs, three curveballs, a strikeout, a flyout and a ground out.