The last time George Mason's Johnny Williams appeared in a game more than 15 months ago, he was bulky, back-to-the basket big. Or, more specifically, a standard-issue Patriot post presence.
He didn't stay that way.
Mason's coaching staff changed. Williams underwent shoulder surgery and redshirted last season as the Patriots went 23-9 with a senior-laden frontcourt.
Not-so-suddenly svelte, Williams is down to 245 pounds and sporting a redefined body and game the Patriots likely will count upon next season.
"I have abs coming in now," Williams said. "It's kind of weird. I've never seen myself with abs."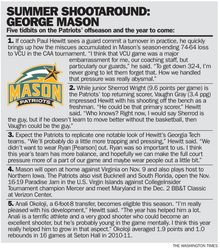 It was almost a necessary development for the 6-foot-8 junior, who averaged 2.5 points, 1.7 rebounds and 9.4 minutes in 62 games during his first two seasons in Fairfax. The Patriots' priorities under former coach Jim Larranaga were to establish rugged and efficient play in the paint. That took brute strength more than endurance, convenient since Mason wasn't an up-tempo team.
Second-year coach Paul Hewitt wants to push the pace, as Williams learned during preseason workouts last year. Williams grew to 275 pounds (up from his old playing weight of 260 pounds) during the month after surgery when he could do little more than walk around to remain active.
Williams described the initial impact of constant running as "horrible," and the requirement to repeat workouts if he couldn't make a certain time made matters worse. A series of sprints of 400, 200, 100, 50 and 25 yards was especially onerous.
"The 50-yard and 25-yard, I was fine," Williams said. "When it came to the 100 and the longer distances? Oh yeah, after the first two times I was done."
It ultimately meant Williams would spend plenty of time with Mason strength and conditioning coach Handy Handerahan. Williams was a fixture on the Patriot Center steps, running them three or four times a week.
He also was a weight-room regular, with Handerahan helping Williams make gradual physical changes without compromising his basketball skills. The pounds gradually melted away, with Williams eager to embrace Handerahan's regimen so he could eventually make an effective return.
"When he walks out around now, he's confident," Handerahan said. "We train early in the morning, and it's certainly humid in there. [Williams] is not afraid to take off his shirt. His freshman year, that wouldn't have happened. That would have stayed on."
Mason will have room for Williams in its frontcourt rotation after the graduation of Ryan Pearson and Mike Morrison. But he'll provide a different sort of contribution than before for a team whose top returning frontcourt scorer (Jonathan Arledge) averaged 4.3 points.
Williams has developed a mid-range jumper and could be in line for some shots from the perimeter, and his retooled physique figures to allow him to defend at least some wing players.
"He can score, and losing Ryan's scoring up front gives him a natural opportunity," Hewitt said. "That's what he does best. He can shoot it from 15-to-17 feet and occasionally knock down a 3. He's very strong with that jump hook around the basket. It gives him an opportunity for sure."