The House voted Wednesday to repeal all of President Obama's health care law, acting where the Supreme Court declined to, in a vote that both sides said is doomed to fail in the Senate but was designed to lay the groundwork for voters to have a final say in November's elections.
The vote forced some Democrats to choose between their support for Mr. Obama and a lingering opposition to the law in their home districts, and five Democrats joined the GOP in the 244-185 vote in favor of a repeal.
It marks the 33rd time that the House has tried a full or partial repeal of the sweeping law, which Democrats powered through Congress in 2010 without a single GOP vote, and which has become both the defining domestic achievement of Mr. Obama's tenure and the political rallying cry for his opponents.
"[Americans] certainly didn't ask for this government takeover of their health care system," said House Speaker John A. Boehner, Ohio Republican. "We're giving our colleagues in the Senate another chance to heed the will of the American people."
The Senate has blocked nearly every one of the previous repeal efforts, with only a few tweaks to the law's financing having made it through in the two years since the law was adopted.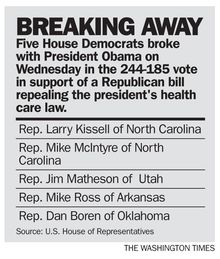 Democrats said this time will be no different.
"We know job creation is the most important thing right now and that's why we're very concerned about the waste of time on the floor of the House on something that's never going to happen, but just is a manifestation of the fact that Republicans are the handmaiden of the health insurance industry," said House Minority Leader Nancy Pelosi, California Democrat.
The Supreme Court upheld most of the Affordable Care Act in a 5-4 decision last month, ruling that Congress' taxing powers were broad enough to grant it authority to require all Americans to obtain insurance.
House Republicans immediately promised to try a repeal again, while Democrats said it was a distraction. Both parties tailored their arguments to the top issue that voters say they care about: jobs and the economy.
White House spokesman Jay Carney accused the GOP of engaging in "a quixotic effort to try and score political points."
"We do not need to refight the battles of two years ago, three years ago," Mr. Carney said. "We need to help the American economy now."
The full law doesn't go into effect until 2014, and the court's decision has left some holes in it. A number of states where Republicans are in control have said they will opt out of expanding Medicaid coverage - an option the high court opened up in its ruling. Some states also said they would forgo setting up insurance exchanges.
Health and Human Services Secretary Kathleen Sebelius said Wednesday that a dozen states, representing nearly a third of all Americans, have sent letters officially saying that they would create exchanges.
The deadline for states to decide is Nov. 16.
Wednesday's repeal vote was a test for Democrats from conservative-leaning districts.