The Navy destroyer was moored for a routine refueling stop at the Port of Aden in Yemen on a Thursday morning when two men in a small civilian boat approached. They smiled and waved at crew members as they guided their vessel toward the port side of the ship.
Suddenly, they increased speed, aiming their boat like a dart at the warship's waterline.
It was Oct. 12, 2000, and the ship was the USS Cole.
"I was sitting at my desk at 11:18 when there was a thunderous explosion. You could feel all 505 feet and 8,400 tons of guided missile destroyer quickly and violently thrust up and to the right," said retired Navy Cmdr. Kirk Lippold, commanding officer of the Cole at that time.
"We seemed to hang for a second in the air, came back down, rocked from side to side, ceiling tiles popped out, lights went out, everything on my desk popped up, landed back down," Cmdr. Lippold said.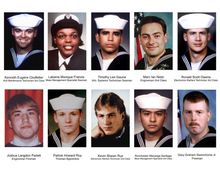 The blast, which tore a 40-by-60-foot hole in the Cole's steel hull, killed 17 sailors and wounded 39 others — the deadliest assault on a U.S. warship in more than a decade. The al Qaeda terrorist network claimed responsibility for the suicide attack.
On Tuesday, the accused mastermind of the Cole attack — Abd al-Rahim Hussayn Muhammad al-Nashiri — is set to appear at a military court hearing at Guantanamo Bay, Cuba.
A Saudi of Yemeni descent, al-Nashiri, 47, is charged with 11 counts related to orchestrating the Cole bombing, as well as an attempted attack on the USS the Sullivans in January 2000. He faces the death penalty.
'It still hurts'
For John and Gloria Clodfelter of Mechanicsville, Va., Tuesday's hearing is just one step along the long road for closure.
The Clodfelters lost their eldest son in the Cole attack — Petty Officer 3rd Class Kenneth Clodfelter, 21 — and they will make the trip to the Guantanamo Bay detention facility to attend al-Nashiri's hearing.
"I owe it to my son to go ahead and make certain that they haven't gotten away with this stuff. To be able to face this person and, if nothing else, to let him know that he hasn't gotten away with what they did," Mr. Clodfelter, a retired Air Force veteran, said in a phone interview.
"It still hurts. It still hurts a whole lot," he said. "But it's important that people make certain that it's not forgotten.
"If people do forget about what happened, it's going to be that much easier for them to do it to another Navy ship," he said.
The Clodfelters have a daughter who is serving in the Navy and recently returned from an eight-month deployment.