Two of Mitt Romney's top foreign policy advisers slammed the Obama administration this week for failing to address a mounting humanitarian catastrophe in Sudan, saying Mr. Obama's mishandling of the region's ongoing crisis offers a window into how a Romney White House would do things differently.
The administration's soft posture toward Sudanese President Omar Bashir has paved the way for continued atrocities against civilians, the advisers said. They added that Mr. Obama's habit of taking U.S. allies for granted also is on full display when it comes to South Sudan — which commemorated its first anniversary as an independent country this week.
"I think the South Sudanese feel they've been abandoned and the United States is working more as a neutral mediator than as an advocate on their behalf," said Andrew Natsios, a special adviser to the Romney campaign who headed the U.S. Agency for International Development under President Bush in the early 2000s.
Were Mr. Romney president, added Richard Williamson, another of the campaign's foreign policy advisers, he would "provide political leadership" in confronting Lt. Gen. Bashir, who continues to hold the Sudanese presidency despite having been indicted on war-crimes charges by the U.N.-backed International Criminal Court.
Differences with Obama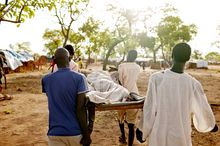 Mr. Romney also would push for an accelerated deployment of U.N. peacekeepers in an attempt to "crowd out the violence" in key areas between Sudan and newly independent South Sudan, Mr. Williamson said.
Fighting has erupted along the border between the two nations since last year, when South Sudan's secession from the north triggered a dispute over revenue from the region's oil fields.
Tens of thousands of people have become refugees as a result of violence in the Blue Nile and Nuba Mountains — regions of northern Sudan that were aligned with the south during the 22 years of civil war that preceded South Sudanese independence.
In addition to blocking the flow of humanitarian aid to regions now, Gen. Bashir's northern Sudanese fighter jets have pounded villages in the two regions during the past year.
That the Romney campaign homed in on the issue this week raised the eyebrows of close Sudan watchers in Washington, including some Democrats critical of the Obama administration for not following through on its 2008 campaign promises to take a hard-line stand against Gen. Bashir.
But the extent to which Mr. Romney would take a truly different approach from President Obama's remains to be seen, and questions swirled this week over how closely aligned the former Massachusetts governor is to his advisers on the Sudan issue.
Former Bush team members
Mr. Natsios and Mr. Williamson served as special envoys to Sudan under Mr. Bush. Before they were tapped as advisers by the Romney campaign, both were out front on the Sudan issue, advocating for the deployment of some form of U.S. anti-aircraft to bolster the south's defenses against strikes carried out by the north.
Neither has been willing to get behind that position on behalf of the Romney campaign.
In his statement commemorating the one-year anniversary of South Sudan's independence, Mr. Romney offered some firm generalizations but appeared to balk at the opportunity to distinguish himself aggressively from Mr. Obama.