The E! Entertainment network didn't have to look hard to find a Kardashian connection for its upcoming Olympics coverage.
"Keeping Up With the Kardashians" family patriarch Bruce Jenner, the 1976 decathlon gold medalist, will head to London to be part of the E! team later this month. E! became one of NBC Universal's stable of networks a year and a half ago, so this is the first time it will take advantage of NBC's status as Olympic television rights holder.
The company is building a studio for E! so celebrities and athletes can stop by for interviews. Its coverage, anchored by Giuliana Rancic, will be featured on the network's entertainment newscasts, which run weeknights at 7 and 11:30. The idea is to showcase the lighter side of the games, the parties or athletes whose personalities have broken through.
Mr. Jenner will attend with reporters Catt Sadler, Ross Mathews and Robbie Laughlin. News correspondent Melanie Bromley, a former London resident, will be on the party circuit and give E! viewers a taste of London nightlife.
An older generation may think Olympic champion first when Mr. Jenner's name comes up. That's not the case for fans of the Kardashians, E!'s First Family, the bulk of whom are women not even born when Mr. Jenner ran, jumped and shot-putted his way to fame in Montreal.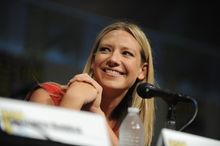 "They just know you as Kim, Kourtney and Khloe's dad, and Kendall and Kylie's dad," he said. "To me, I think that's great. I have a lot of fun. They don't know what your past is. And that's fine."
The gold medalist turned reality TV star even seemed a little ambivalent about his assignment.
"They asked if I would go over and obviously E! has been good to my family, so it looks like I've got to go," he said.
J.Lo eager to return to movies after leaving 'American Idol'
Jennifer Lopez was part of the all-star cast that helped lead "Ice Age: Continental Drift" to the top of the box office over the weekend, and the entertainer is eager to focus even more attention on her once white-hot movie career.
"I do miss doing films. I feel like the last two years with '[American] Idol,' I've really, really focused on, you know, my music. … It was all kind of very synergistic, it worked really well together," said Miss Lopez, whose movie hits include "Maid in Manhattan" and "Selena," and who was in "What to Expect When You're Expecting" earlier this year. "But [film] is something that I really loved, it's how I kind of started in this business, and it doesn't leave you. I am an actress, I need to do that, too."
She'll certainly have more time now that she's not going to be a judge on "American Idol." She announced on Friday that she will not be coming back to the Fox talent competition, following in the footsteps of fellow judge Steven Tyler, who announced a day earlier that he would leave the show to devote more time to his band, Aerosmith.
But before Miss Lopez concentrates more on film, she has a lot on her music plate. She's releasing a greatest hits album, and this summer, she embarked on a world tour with Enrique Iglesias.
'Fringe' stars get emotional as show's final season nears
There were no doppelgangers at the final panel for "Fringe" at Comic-Con, but there were plenty of tears.