Isaiah Armwood grew to know the impact of transferring all too well last winter.
Sure, the forward wasn't permitted to play in games after leaving Villanova for George Washington, but what stood out just as much was the inability to travel. As the Colonials hit the road, Armwood hit the gym and the weight room — alone.
On game days at home, he at least worked out with assistant coach Pete Strickland well before the opening tip. When GW was on the road, he found himself watching games on TV and sometimes online just to have some connection to the team during his sit-out season.
"That's what it felt like," said Armwood, who will play during the program's five-game tour of Italy next month. "I'm not doing as much as I usually do. I'm not engaged as much. It's kind of like you had a year off, almost."
The Montrose Christian product's basketball exile is over, and the second act of his college career will start this season.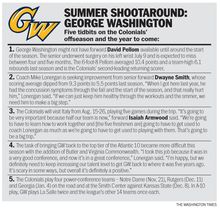 It can't happen soon enough for the 6-foot-9 Armwood or coach Mike Lonergan, who oversaw a 10-21 season in his first year with the Colonials.
"He'll definitely increase our talent level," Lonergan said. "I thought the first half of the season, he and Tony [Taylor, a senior last year] were our best players in practice."
Even that was a bit of a bonus for Lonergan, who wasn't hired until early May and could do little to immediately augment GW's roster.
Meanwhile, Armwood played two seasons at Villanova and even was part of the Wildcats' summer tour in August. But within days of returning home, Armwood and coach Jay Wright amicably agreed to part ways largely over on-court philosophy.
"We didn't dislike each other in any way," Armwood said. "I wanted to stay there. He wanted me to stay, but he wanted to play a certain way and I wanted to do things a certain way. It just wasn't happening."
Enter Lonergan, a coach Armwood didn't previously know much about, and GW.
Armwood wanted to come closer to his Baltimore home, but he also wanted to find a new coach just starting to implement a system. That was perfect for Lonergan, who hopes to re-establish the Colonials as a relevant destination for local players.
"Getting somebody like Isaiah, that's a high-level recruit who could have gone to some ACC schools or could have gone to a BCS school as a transfer kind of gave us some credibility," Lonergan said. "Being a Montrose kid helped. Being a local kid, I think that really helped us recruit the area, which we wanted to do."
That might have provided a boost even if Armwood didn't play a large role for GW. He's likely to emerge as one of the Colonials' best players this season, especially in an offense he believes suits his strengths.
After serving as a back-to-the-basket frontcourt reserve in a backcourt-centric system at Villanova, Armwood said he expects to put the ball on the floor more for the Colonials while taking advantage of his length and athleticism.