HELSINKI — This month, Finns are challenging the Olympic Games for the limelight — with world competitions in air guitar, wife-carrying and mobile-phone throwing.
And don't forget swamp soccer, as if you could.
Those are just some of the weird "world championships" held in Finland that, while lacking the grandeur of the London Olympics, definitely outdo the Summer Games with a wild wackiness all their own.
All summer long, dozens of Finnish towns will organize peculiar competitions. Over the years, Finns have held contests that include the mosquito-killing championship, the dung-spreading competition and the pig-agility contest.
Some say that the competitions allow the Finns to act less Finnish. They are renowned for their morose reticence and fiscal responsibility. Finland, after all, is one of the few eurozone members continuing to back austerity measures to ease the European economic crisis.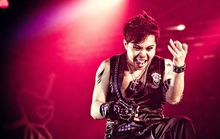 "Finns are reserved people, and the wife-carrying competition gives them a license to be crazy," said Veikko Tervonen, one of the organizers of the race.
"For some people, it's a personal show. They take their time on the track, enjoying their moment in the spotlight," he said. "Besides, you can get unbelievable photos. No other sport looks quite as amazing."
In one contest, a man carries his wife on his shoulders while climbing over obstacles and crossing a pool of water. The organizers claim that the idea is based on a 19th-century legend of local robbers kidnapping women.
With a 20-year tradition, wife-carrying is said to be responsible for triggering the national boom in odd contests.
The rural town of Sonkajarvi, which hosts the event, has 4,600 inhabitants, but the population triples when the wife-carrying races begin.
"It has greatly enhanced the community spirit," Mr. Tervonen said. "It's a big, common effort, as 10 percent of locals work on the event on a voluntary basis."
It has gained unexpected international popularity. The curious sport has spread to many other countries, including the United States, and competitors from all over the world have tried their luck in Sonkajarvi.
Another Finnish oddity, the air-guitar world championship, has become even more of an international phenomenon. The event started in 1996 in the northern city of Oulu. Now, contests are held all over the world, and national champions gather in Finland every August.
Air-guitar competitors mimic real rock'n'roll musicians by nodding their heads spasmodically, jumping into the air or sliding on their knees — all while wearing outrageous costumes with Mozart wigs or heavy-metal makeup.
Last year's silver medalist and U.S. air-guitar champion Justin Howard, known by his stage name Nordic Thunder, explained the competition's appeal on the event's blog.