Metro implemented speed restrictions Tuesday afternoon because of an increased risk of heat-warped tracks, causing delays through rush hour, into the evening and possibly into Wednesday as temperatures climb.
Trains traveled no faster than 35 mph on aboveground sections of the system as a preventive measure after the Green Line derailment July 6. That train was traveling faster than 50 mph when it hit a heat kink near West Hyattsville station, causing three cars to derail. Speed restrictions enable a train to stop more quickly if another heat kink develops.
A train operating without heat restrictions runs at about 55 mph between aboveground stations, Metro spokesman Philip Stewart said. Despite the slowed train speeds, passengers were not delayed more than five to 10 minutes, Mr. Stewart said.
The speed restriction was lifted at 6:30 p.m. Tuesday.
A heat kink develops when the steel rails reach temperatures above 135 degrees and release pressure by popping sideways. During any period with sustained weather in the mid- to high 90s, extra rail inspectors walk the 106-mile system with infrared guns to measure rail temperatures and look for abnormalities.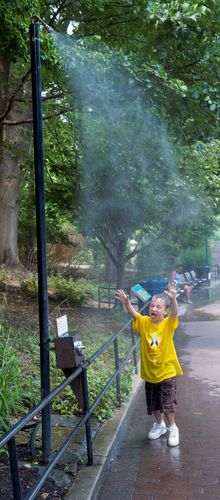 Metro spokesman Dan Stessel said that under the new heat regulations, whenany rail's temperature reaches 135 degrees, the 35 mph speed limit goes into effect for all aboveground tracks on that line. One 136-degree section on the Red Line will cause speed reductions across all 27 Red Line stations.
Rails generally reach the 135-degree mark when the air temperature is in the upper 90s, Mr. Stessel said. However, the temperature is not the primary reason that the rails heat up.
"The real variable is the sunlight," Mr. Stessel said.
A 95-degree day in October does not have the same impact on rails as one in July because the sun is not as intense, he said. Even a cloudy day in the low 100s has less effect on rails than a sunny day in the high 90s.
When conditions for heat kinks are right, extra rail inspectors walk the tracks and monitor sections every few hours. This means if the rail coolsby its next inspection a few hours later, restrictions will be lifted. When heat is not an issue, about a dozen workers ensure that each rail is inspected twice a week.
"Every inch of this system is inspected," Mr. Stessel said.
In addition, a slowdown can be put into effect if temperatures do not drop enough to allow sufficient rail cooling at night, Mr. Stessel said.
Previously, speed reductions wereimplemented only when track inspectors reported a problem.
"This provides a broader approach," Mr. Stessel said.
Also in reaction to the extreme heat, Metro will permit customers to drink water on buses and trains Wednesday.