Despite the return by President Obama and the Democratic Party of a tainted $10,000 donation from D.C. fundraiser Jeffrey E. Thompson, dozens of other federal and local campaign committees, Democrat and Republican alike, continue to hold on to tens of thousands of dollars in contributions they have received from the contractor now at the center of Mayor Vincent C. Gray's deepening fundraising scandal, records show.
And while Maryland Gov. Martin O'Malley, head of the Democratic Governors Association, disclosed Wednesday that his campaign donated $38,000 in questionable Thompson-related cash to a charity, D.C. officials seem dead-set against parting with theirs.
The National Republican Congressional Committee didn't immediately respond Wednesday evening to a question about whether it planned to return or donate to charity the $25,000 it received from Mr. Thompson in 2004.
So-called "toxic donors," such as notorious lobbyist and campaign finance bundler Jack Abramoff, extend their reach in political contests far and wide. But according to campaign finance reform advocates, determining what to do when it surfaces that a donor or their money — or both — are dirty requires a sense of ethics, political judgment, public opinion and tactics.
"That's what campaign managers are paid for," said Meredith McGehee, policy director for the Campaign Legal Center. "It's a political calculation of when to get rid of the money and when to hold tight. It's part of the alchemy of political fundraising."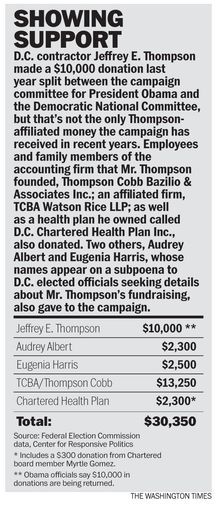 Mr. Thompson's influence extends deep into D.C. government, and he is widely thought to be an unidentified co-conspirator if not the mastermind of a $650,000 straw donor campaign in support of Mr. Gray in 2010. A Thompson associate, Eugenia Harris, pleaded guilty to participating in a "shadow campaign" that threatens to imperil Mr. Gray's ability to govern.
Mr. Thompson or his network of affiliates have donated to most of the District's sitting council members as well, except for Tommy Wells, Ward 6 Democrat, and Kenyan McDuffie, Ward 5 Democrat, who won a special election in May, when scrutiny of Mr. Thompson's contributions was well-known.
Even as Mr. Obama's campaign moved to disassociate itself with Mr. Thompson's money, city lawmakers and staff were taken aback by the notion of returning Thompson-related funds — both because it delves into closed-out campaigns and because they believe their donations were legal and properly audited.
D.C. Council member Jim Graham, Ward 1 Democrat, said he received checks from Mr. Thompson and there is no reason to believe they were shady donations funneled through a straw-donor scheme. "It's all legal," he said.
Campaign finance records show Mr. Graham received donations directly from Mr. Thompson in May 2006 and September 2010, each for $500. He said his most recent campaign is closed, so "that money doesn't exist."
The notion of giving money back, he said, is a question best posed to candidates with existing campaigns.
"If I had a campaign active right now, that would be worth considering," he said.
Council member Yvette M. Alexander, Ward 7 Democrat, said she has not received money from Mr. Thompson during her current campaign to retain her council seat in November — nor has anyone else, for that matter, as scrutiny continues to swirl around Mr. Thompson and his network of donors. As for contributions to her past campaigns, "That money has been spent, and my former campaigns have been closed out," she said. "If it's spent, it's gone."
Council member Vincent B. Orange, at-large Democrat, faced scrutiny about donations from Mr. Thompson's network during his 2011 campaign to rejoin the council through a special election. He referred "suspicious" money orders to the campaign finance office, which is conducting an audit.
"If the [Office of Campaign Finance] finds something amiss and determines I should make refunds, I would do that," he said, adding that the audit's preliminary findings only mandate $750 in refunds for excessive contributions that, to his knowledge, are not tied to Mr. Thompson.