✔ Pick of the Pack
Film: 'Once a Gangster'
The typical gangster movie goes like this: A young tough makes a measured and disciplined trek to the top of his organization, comes to believe he is invincible, makes a careless mistake, loses everything, and finally resigns, redeems or kills himself. "Once a Gangster" is not a typical gangster movie. The movie's co-stars, Jordan Chan and Ekin Cheng, play low-level Chinese triads who are perfectly satisfied not being in charge of their criminal organization. One runs a restaurant, the other is a student. They both like their day jobs and want to keep them. Yet the duties and obligations of their tribe — in this case, a gang — are not exactly optional. So to stay in school and the kitchen, they screw up as much and as often as they can to keep from getting elected.
Friday at the Freer and Sackler Gallery, 1050 Independence Ave. SW
Phone: 202/633-4880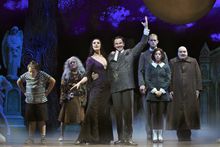 Web: www.asia.si.edu
Theater: 'The Addams Family'
"The Addams Family" — Gomez, Morticia, Uncle Fester, Lurch, Wednesday and Pugsley — has appeared in every conceivable medium since debuting in the New Yorker in the 1930s. Their cultural ever-presence means staging one of America's most famous fictional families doesn't leave a whole lot of room for innovation. Fiddle too much with a character's personality, and you risk irritating audience members who have precise expectations for Wednesday (droll, blank, brilliant), Gomez (unrestrained, enthusiastic), Uncle Fester (asexual, yet somehow still perverse), and all the rest. So the key to a successful staging is taking concrete characters and putting them in a foreign land. Marshall Brickman and Rick Elice did exactly that in the production playing at the Kennedy Center, in which Wednesday grows up and falls in love with someone who is (gasp!) completely normal.
Through July 29 at the Kennedy Center, 2700 F St. NW
Phone: 202/467-4600
Book talk: The true creator of Batman
With Batmania in full swing once again thanks to Christopher Nolan's "The Dark Knight Rises," now is as good a time as any to revisit the injustice done to Bill Finger. Finger is the unnamed shadow cast by Bob Kane, the DC Comics legend credited with creating industrial playboy Bruce Wayne and his masked alter ego — except Kane didn't so much as create Batman as claim him. As author Marc Tyler Nobelman details in his illustrated history, "Bill the Boy Wonder: The Secret Co-Creator of Batman," it was Bill Finger who created Wayne and Batman, imagined his costume, developed his back story and named Gotham. In fact, it's fair to say that without Bill Finger, there would be no Batman. This makes it all the more tragic that DC Comics refuses to officially acknowledge Finger as the Dark Knight's co-creator.
Mr. Nobelman speaks Friday at Barnes and Noble Tysons Corner, 7851-L Tysons Corner Center, McLean, Va.
Phone: 703/506-2937